link friday: same-sex marriage, Wii U!, scandals
Mood: cheerful
Posted on 2012-11-16 14:07:00
Tags: gay referrer politics links
Words: 455
Things have been busy so it's been over a month since I've posted a batch of links...but the wait is over!

- Same-sex marriage section: after the historic victories last week (wow, that was only last week! How time flies...), my marriage map was linked from Sociological Images, which is a pretty awesome name for a blog. (and no, the map isn't wrong, Maryland doesn't allow marriage until January. But that's OK!) Dan Savage reminds us that we couldn't have done it without lots and lots of straight allies: thanks straight allies! And the New York Times points out that Obama won LGBT voters by a lot, while there was roughly a tie for straight voters.

- Wow: Dick Morris (who predicted a Romney landslide) is now saying "I Felt It Was My Duty" To "Say What I Said". Regardless of who you wanted to win, that is a terrible terrible thing to hear from a pundit who makes predictions. (perhaps it's not unrelated that Dick Morris is notoriously almost always wrong when predicting things)

- I just found out an old high school friend of mine started CheckedTwice, a place to put up gift lists and such. Perfect for the holidays! It got a nice writeup in a local paper.

- For some reason, a bunch of Princess Bride references in an NFL pregame show.

- Someone wrote a Chrome extension that automatically fact checks crazy chain letters - pretty cool!

- Speaking of Chrome, the new 100,000 Stars is a very cool visualization of our stellar neighborhood. Man, browsing through this makes me want to play Master of Orion again...

- After playing Nintendo Land for the Wii U, David and I have been convinced to get a Wii U. Lots of fun!

- With regards to the Petraeus scandal, David Simon has two (NSFW-language) posts: part 1 and part 2. Short version: this shouldn't be a scandal.

- Speaking of scandals, I still don't really understand what the Benghazi "scandal" is supposed to be about. (obviously it was a tragedy, and we need better security, but I've never understood why people are trying to make political hay out of it) And apparently I'm not the only one!

- Roman Catholic Church in Minnesota Refuses to Confirm Pro-Equality Teen - worse than that, they're refusing his whole family communion. Ick ick ick.

- Sixth man infraction spotted 19 years after Rockets/Sonics game - pretty incredible that no one caught this, even though it didn't make a difference in the play. Once you know what to look for it's pretty blatant :-)

- From the Onion: Nation Suddenly Realizes This Just Going To Be A Thing That Happens From Now On (re Hurricane Sandy)

- Pentatonix has a new Christmas album coming out - here's their version of Carol of the Bells.
New Nokia developer program for Windows Phone: DVLUP!
Mood: excited
Posted on 2012-11-08 10:53:00
Tags: nokia windowsphone
Words: 75
I'm happy to announce Nokia's new developer program for Windows Phone: DVLUP!

The program has challenges (i.e. "write an app using geolocation") and other ways to earn points, and you can spend the points on cool swag, or even shiny new hardware! Here, check out the video (it's only 90 seconds):


DVLUP is in private beta right now, but I will have invite codes. Like developing for Windows Phone? Drop me a line at greg@gregstoll.com!
A big, big day for gay rights
Mood: ecstatic
Posted on 2012-11-07 09:57:00
Tags: gay politics
Words: 192
Along with all the other stuff, yesterday was a huge day for gay rights:

- Tammy Baldwin won in Wisconsin, becoming the first openly gay US senator.

- There were four same-sex marriage measures on the ballot - Maine, Maryland, and Washington were looking to allow it, and Minnesota was looking to prohibit it in their constitution. We won in Maine, Maryland, and Minnesota. (the numbers are still being counted in Washington, but it's looking good!) To put that in perspective, same-sex marriage has _never_ been allowed when put to a popular vote (it's something like 0 for 32), and same-sex marriage bans in the state constitution have only failed once (Arizona in 2006). The marriage map has been updated!

Now, the four states are all pretty Democratic-leaning, and the votes were close, but between people getting more comfortable with it and the fact that the president and Democratic party endorsed it, I think the tide is turning towards same-sex marriage, and it's turning quickly. In Maine just four years ago, voters rejected same-sex marriage 53-47%, and it looks like it passed this time by the same margin, which would be a 6 point swing!
Surface review
Mood: excited
Posted on 2012-11-01 21:06:00
Tags: windows reviews
Words: 427
Well, it's been a week since I waited in line for 3 hours to buy a Surface, so it's about time for a review. Unfortunately it's been a busy week so I haven't had as much time to play with it as I would have liked, but here goes:

- The Surface itself feels very solid and light at the same time. I really wish it had wireless charging, but oh well. I've been using it throughout the day and it's been fine on battery life.

- The Touch Cover takes some getting used to (since the keys don't move), but I'm already typing pretty quickly on it - not quite as fast as a real keyboard but much faster than a virtual keyboard. (I'm typing this review on my Surface) I played with a Type Cover at the Microsoft Store today, and while it is a little thicker it felt exactly like typing on a real keyboard, so that might be worth the investment if you're going to be writing novels.

- The kickstand is nice although it would be nice if it could work at different angles. The kickstand itself feels very, very solid.

- The OS itself feels pretty fast and fluid, although some apps are a little laggy. The mail app in particular is really not that great and kinda slow. The store app can be a little laggy too. But overall I've been pretty happy.

- I haven't used the split screen view much, but I'm typing this while watching Netflix which is super awesome! Look here!

- The Windows Store is coming along - it still seems like new apps are being added at a good rate.

- Having Microsoft Office is really pretty handy, even if it's not totally designed for touch. The Skydrive service (Microsoft's version of Dropbox) and app are pretty handy as well.

- I got a free year of Xbox Music, which means I can download and stream a bunch of music for free. The app was acting a little funny earlier, but the idea is pretty cool and the selection is good. The speaker volume is acceptable but I wish it would go 15% louder.

- The Kindle app is fine enough, although following footnotes is surprisingly slow. The screen brightness makes it very pleasant to read on.

So all in all: two thumbs up! The hardware is eye-catching (I went with the cyan Touch Cover) and for the first few days people were stopping by at work to play around with it. I'm looking forward to travelling with it and seeing how it holds up
Exciting Windows Phone stuff: new WP8 features and cheap developer registration! #wp8 #wpdev
Mood: excited
Posted on 2012-10-30 16:16:00
Tags: windowsphone
Words: 100
The official Windows Phone 8 launch was yesterday, but there's some exciting stuff trickling out from the //BUILD conference:

- Here's a good list of new features in Windows Phone 8, and Joe Belfiore showing them off.

- For developers, the SDK is now available, and this post mentions some cool new stuff, including sharing code between Windows 8 and WP8 apps.

- If you're interested in getting into Windows Phone development, drop me a line! Microsoft is offering $8 Dev Center accounts (normally $99), and Nokia is offering a Premium Developer Program which includes some goodies like a license for Telerik RadControls!
I'm the Nokia Developer Ambassador for Austin!
Mood: excited
Posted on 2012-10-24 09:59:00
Tags: nokia windowsphone
Words: 92
Exciting news - I am officially the Nokia Developer Ambassador for Austin!

What does this mean? Well, I'll be even more enthusiastic about Windows Phone (if that's possible!) and getting developers to write Windows Phone apps. I'll be more visible at events, and I'll be writing more about how to develop for Windows Phone.

With Windows Phone 8 right around the corner, together with exciting new devices (like the Lumia 920!), it's a great time to jump on the Windows Phone bandwagon. Contact me at greg@gregstoll.com or @gregstoll on Twitter if you're interested!
quick thoughts on Surface pricing
Mood: excited
Posted on 2012-10-16 09:20:00
Tags: windows essay
Words: 279
The pricing for the new Microsoft Surface leaked this morning - supposedly it's $499 for the 32 GB version, $599 for the 64 GB version, and a touch cover will run $119.

First: yes this is just a leak, and I saw some wishful thinking that the leak was on purpose and the real prices will be $100 lower. This seems pretty unlikely given that things leak all the time, and since it's coming out in 10 days someone probably just pressed "Publish" too early.

As a Windows 8 app developer, I wish Microsoft was giving these away for free :-P But I think $499 is a reasonable starting price - you can argue that it's cheaper than the iPad (since the $499 iPad only has 16 GB of storage), but the cheapest one is the same price (although this is ignoring the old iPad 2's that start at $399...and I'm guessing Apple still sells a lot of those?). Of course, that's what the TouchPad started at and that didn't turn out so well, but Microsoft can always cut the price later to juice sales if they want.

And they've already started running commercials, and I think it will get a good amount of press since it's launching with Windows 8.

The touch cover is interesting - my gut reaction was "$119 for a cover??" but then I remembered how awesome it is. Nice that they're featuring it in ads, and I think if people play with one at a Microsoft store they'll understand why it's worth the price.

(for the record, I am totally planning on getting one...probably the 32 GB version with a touch cover. Haven't decided on colors yet :-) )
Italy recap: Day 13 (the voyage home)
Mood: cheerful
Posted on 2012-10-13 18:57:00
Tags: travel
Words: 835
[Ed: this is the last Italy post! I'm as happy about this as I'm sure you are.]

Friday "afternoon"

We're on our way home! Of course, we're only 4 hours into our 10 hour flight (and I think I'm out of new books to read - ack!), but it's a good start.

This morning went well - we got up a little early, checked out, and lugged our stuff to the bus station. I bought tickets, and was a little proud of myself for expressing displeasure at a woman who blatantly cut in front of me. (my more usual M.O. is to pretend nothing happened) We got to the airport ridiculously early, so much so that we had to wait 20 minutes to check our bags. We had a pretty tight connection in Paris (a little over an hour), and my big fear was that we'd have to recheck our bags to go through security again. Luckily this turned out to not be the case, although figuring this out and checking our bags took 10 minutes with a helpful but kind of rude Air France agent.

First flight was uneventful, and we quickly found the shuttle we needed between terminals 2G and 2E in Paris. The shuttle driving alone took 20 minutes(!) so I was very glad we didn't have to do anything extra - we were a little late to board, but no biggie. The plane was also 30 minutes late taking off which makes me feel good about our luggage's chances. Here's hoping!

We're sitting together on this flight but there are no individual TVs which is disappointing.

"evening" for real
We're on our last plane! The rest of the flight to Atlanta was relatively uneventful. The poor lady sitting in front of us was travelling with three kids ages 3 to 6 - I overheard her saying that someone else was supposed to be travelling with her but something happened. The kids behaved reasonably well, I suppose. Before we took off, the boy was crying and so the flight attendant took him up to see the captain, and pitched it by pointing out that his sisters wouldn't get to go. Sounds like she has some parenting experience! (and yes, I was a little jealous I didn't get to meet the captain...maybe you do in first class?)

When we landed in Atlanta, the in-flight instructions informed us that we would indeed have to get our checked bags, bring them through Customs, then recheck them, making a liar out of the rude Air France agent. We had just under two hours to make our connection in Atlanta, but having to do all this stuff made me nervous - so many more points of failure. But everything turned out fine - our bags were basically there after we got through passport control and we were both asked only a few questions. (of course we had to go separately because we're not a family in the eyes of the US government...boo)

Aside - I will say this: people in the Atlanta airport were super-friendly and helpful. It was partially the language barrier, but in Italy I often felt unsure about where to go (or what line to wait in) and whenever I asked someone it felt like I was imposing.

Interestingly, the inflight instructions made a big deal out of the fact that you always have to recheck your bags at the Memphis airport in particular, which took me aback. Is Memphis some super-important city or airport? (0.5%) Or does FedEx being based there have something to do with it? (1%) Or is the Memphis airport just laid out in a stupid way? (98.5%)


Anyhow, our trip is nearly at an end, minus the catching up on sleep part. A bit of navel-gazing:
- Going through AAA to book hotels has been generally successful. In the future I'm really going to try to find ones with WiFi in the rooms. (yes, yes, I'm a nerd)
- One hour is not enough time for a connection, especially involving international flights. (*especially* in foreign airports!)
- 90 minutes is the minimum time for a connection at our first city back in the US.
- Look at nearby airports! There were tons of buses from Florence to the Pisa airport, which I gathered was bigger.
- This vacation we did a decent job not overscheduling ourselves - most days we were tired but not exhausted.
- The plan of reserving tickets for things with long lines, but leaving other plans flexible worked great. We brought a spreadsheet with activities/hours/etc. and this let us back off on days we were tired.
- We need to do a better job finding activities that weren't art museums. (this may be an Italy-specific problem)
- Useful apps on my Nokia Lumia 900: the international data plan, Kindle, compass, Rome and Florence guides, and Photosynth (for taking panoramas).
- Knowing some Italian was helpful but not strictly necessary.
- I can't really sleep on planes.


All in all, it was a good trip and we had a great time :-) Thanks for reading!
Italy recap: Day 12 (bus tour, Bardini Gardens)
Mood: relaxed
Posted on 2012-10-13 18:33:00
Tags: pictures travel
Words: 200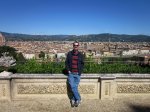 (click for more)

Thursday 9 PM
Our last (real) day in Italy! Today was beautiful with no rain, so we went on the bus tour. It was nice and relaxing and I took a bunch of pictures. [Ed: see above!] We also drove through Fiesole, a nearby older town of 15K people, and by the Soccer Museum, both of which would have been nice to visit. I'm not sure whether our guide books or ourselves were at fault, but we definitely picked out too many art museums and not enough other stuff. Oh well! Lesson learned.

In between bus tour we walked to the Bardini Gardens - unfortunately there were few flowers (this is not a good time of year for them) but it was still pretty and a nice change of pace.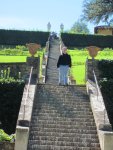 After a nap break, we went to our last Italian dinner where I had a bit too much wine. (which I'm shaking off now :-) ) Our last Italian gelato is later, which is sad, but I think we're both looking forward to being home. I plan on having plenty of caffeine tomorrow so I can stay up and go to bed on Austin time; we'll see how that goes!
Italy recap: Day 11 (Uffizi Gallery, movie theater)
Mood: tired
Posted on 2012-10-12 20:32:00
Tags: pictures travel
Words: 412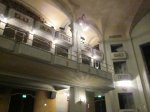 (click for more)

Wednesday 10 PM
The plan was to go to the science museum (really more of a geology/biology museum) this morning, but it was raining and neither of us were that excited about it - we assumed that most things wouldn't be labeled in English. So we stayed in and read and napped and then went out to lunch before going to the Uffizi museum.

The ticketing for the museum was a bit nonsensical. We had made reservations for 2:15, but we weren't sure where to go so we waited in a line, the culmination of which was being told to wait in a different line to exchange our reservation for tickets. But, in the line we had just waited in (which was quite short) you could buy "reservation" tickets for...right now. I'm not really sure what "reserved" means in this context, I guess. Anyway, we waited in line to get our tickets, then we waited in line to get in with our tickets.

The Uffizi museum is big - like really big. We went through at least 60 rooms of art, and probably more because some weren't numbered. There was some good art there (like Botticelli's "Birth of Venus") but I'm just not a person that can enjoy 3 hours of art, especially after all the other hours of art.

Afterwards we had a quick dinner and went to a 6:30 showing of "The Dark Knight Returns". The theater was very posh - it looked like an old one with a stage. Also, in the movie Alfred talks about vacationing in Florence and that's totally where we are!

That's about it exactly for our nightly gelato/tea where I saw that Juventus was playing Chelsea and by some miracle it was showing on one of the few channels we get in our hotel, so I watched the end of that game. Even saw a few familiar faces from the Italian national team on Juventus - Buffon and Chiellini (smiley guy)!

Florence is famous for its leather, and street vendors sell a ton of it - it can smell quite strong! David got a new wallet and a leather-bound notebook, and I'm considering a belt...

Hard to believe that tomorrow's our last full day here. Like any good vacation I had a great time but I'll also be excited to be back home. Tomorrow we have a pretty light day - taking a bus tour and spending some time in some gardens, assuming it doesn't rain again.
Italy recap: Day 10 (Archaelogical Museum, Accademia)
Mood: hopeful
Posted on 2012-10-11 19:22:00
Tags: pictures travel
Words: 263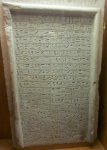 (click for more)

Tuesday 9 PM
David's allergies were pretty bad today so we hung around the hotel this morning for a bit before going to the Archaelogical Museum. It was pretty meh - few things were labeled in English and the museum itself didn't seem terribly well kept up. Afterwards we had a late lunch and sat for a while - we had tickets to the Galleria Accademia at 3 so we had time to burn (why did I make those so late? Oh well...) then got in line for the Accademia. (which houses Michaelangelo's David)

The street outside the Accademia is pretty crazy - long lines to get in (although the line with tickets is much shorter!) and a ton of street vendors selling art and whatnots. The gallery itself is pretty good (and not too big - a plus!) but of course the highlight is the David statue. One thing that pictures don't convey is how big it is - I believe it's around 15 feet tall, and so it's very imposing. It's an amazing piece of art and I'm glad I was able to see it again.

Not much else today - had a late dinner because tonight is Fashion Night in Florence, so a lot of restaurants are full or have weird menus. Tomorrow we're going to see The Dark Knight Returns which should be fun.

Oh, and apparently Mitt Romney said something about the 47% of Americans that don't pay federal income taxes. I feel like I've written about this before, but if not: write about it, future me! [Ed: Done, past me!]
Italy recap: Day 9 (Il Duomo, Santa Croce)
Mood: accomplished
Posted on 2012-10-10 21:53:00
Tags: pictures travel
Words: 323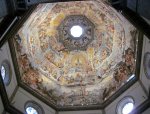 (click for more)

Monday 5:30 PM
OK, I'll admit it - I'm starting to suffer from art fatigue. I feel bad thinking "Ho hum, another beautiful 15th century piece" or "Yup, there's a majestic cathedral built 400 years ago; I wonder if there's a cafe nearby?" (actually, that one doesn't happen - there's always a cafe nearby!) Breakfast at this hotel is quite good - nice selection of teas and delicious muesli cereal with low-fat milk (I'm really not used to whole milk). We walked to il Duomo, the giant dome on the church of Santa Maria del Fiore and looked inside but didn't climb up the 200+ steps to get to the top.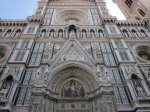 Then we saw the Bargello museum which was decent - had some nice ivory pieces as well as some beautiful ceramic plates. (sadly, this was where art fatigue started to set in) After lunch we walked out to Santa Croce, a big cathedral with memorials to famous Florentinias, I'm guessing. Michaelangelo and Dante made sense, but I was surprised to see Galileo (I wonder if it was constructed after the church pardoned him?) and Macchiavelli(!).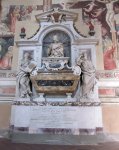 On the way in, we saw a painting at an art stand that matched our living room nicely, but it turned out to be quite pricey. Oh well.

Did a lot of walking today so we've been reading and relaxing at the hotel - we're out on the terrace right now.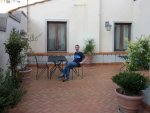 Something happened to my Kindle and the screen doesn't seem to work - not a big deal now as I can use my phone, but I'd really like to have it for the plane trips. Will do some research when I have WiFi later...

11:30 PM
Kindle's fine, just needed to reset it. I may have been a little grumpy before, but - one thing I will never tire of is pizza/pasta for dinner and lingering at meals and reading because we have nowhere in particular to be. Good times!
Italy recap: Day 8 (Arrive in Florence, Galileo Museum)
Mood: happy
Posted on 2012-10-09 22:23:00
Tags: pictures travel
Words: 365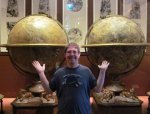 (click for more)

Sunday 9:30 PM
We're in Florence! This morning we ate breakfast, checked out of the hotel, and made our way to Termini (the train station) with all of our luggage. Luckily David had packed an extra duffel bag - we've already gotten a lot of souveniers! - but it's a bit of a pain to move it all around. We had plenty of time to walk around and get lunch, then we got on our train. It was a little crowded but the ride was very smooth, and it was an express so we got to Florence in an hour and a half. We walked to our hotel and after a few tense moments where they couldn't find our reservation (ack!), we got our room. The room is very nice (there's a fresco above the bed!) but sadly the TV channels are still poor and there's no WiFi in the room (although there is in the lobby).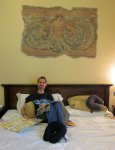 We were also planning to do laundry here, but instead of a laundry room they have a laundry service with the ridiculous prices you would expect of such a thing. So, we will *ahem* make do.

After unpacking for a bit we decided to walk over to the Galileo Museum. The center of Florence is very compact, so I think we're going to get by without using the bus, except for maybe some gardens that are south of the river. The museum is about as far away as anything from our hotel and it's only around a mile. (although: walking a mile, then walking around a museum, then walking a mile back can still be tiring!) We had around an hour before the museum closed and spent it all - there were a lot of cool old instruments and informative video demonstrations of how they worked. Definitely worth the trip!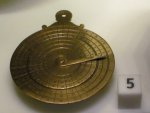 Afterwards we had dinner nearby, walked back to our hotel and are now on our nightly tea run. Florence is definitely a smaller city (around 450K compared to Rome's 4.5 million) and a lot of stuff seems to close earlier, although that could also be because it's Sunday night. So we got gelato earlier, just to be safe!
mostly happy links
Mood: okay
Posted on 2012-10-09 16:34:00
Tags: links
Words: 175
But first, a link I missed from my last angry links: this guy caused a lot of college tuition inflation and is proud of it.

- In Paris, they put up a statue commemorating Zidane's head-butt in the 2006 World Cup finals.

- Should I have a different opinion about not having opinions? - as someone who can be indecisive, there are some good points in there. Mostly that always making the other person decide can be a burden on them, so it's OK to just choose randomly if you really don't have an opinion!

- In 2008, Focus on the Family wrote a list of 34 predictions from 2012 if Obama got elected - and, generously, half of one prediction came true. (the repealing of Don't Ask, Don't Tell, but without the disastrous consequences)

Fun videos:
- A series of covers of "Somebody That I Used to Know".

- Pentatonix's cover of Gangnam Style!

- I obviously don't have a lot of love for Ohio State, but credit where credit's due: their marching band puts on a good video game halftime show.
Italy recap: Day 7 (Museo della Civilta Romana, Catacombs)
Mood: okay
Posted on 2012-10-08 23:02:00
Tags: pictures travel
Words: 264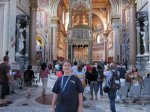 (click for more)

Saturday 7:30 PM
Our last full day in Rome! Kind of sad, but I'll admit I'm looking forward to a nicer hotel. I'm writing this on the rooftop garden which is pretty beautiful tonight - no rain today which was handy. Our morning was free, so we took the subway to near the end of the line to EUR, which is a "permanent exhibition" built by Mussolini. Aside from the streets having interesting names (Europe, Africa, Art, Architecture, Shakespeare) it looked like a typical suburb to us. We walked to the Museo della Civilta Romana and saw some good exhibits about the history of Rome. It really cleared up some timeline issues I had, and there were some cool scale models.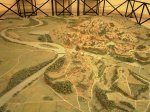 Afterwards we went to the main train station and got lunch nearby, next to where our Catacombs tour began. We took a bus out to the Catacombs of Domitilla and got to walk through a small part of them. The whole catacombs under this church are over 10 miles; the original discoverer got lost for 3 days trying to find his way out! (and there are more than 60 different catacombs in Rome!)

We then saw two other churches (with no catacombs) and that was it. Had dinner and afterwards firmed up our plans for Florence a bit. Luckily our train doesn't leave until 12:45 tomorrow so we have plenty of time to pack, etc.

Oh, and we used the compass on my phone! Between that and the Kindle and the data plan, the my Lumia 900 has been very helpful :-)
Italy recap: Day 6 (Pantheon, Spanish Steps)
Mood: tired
Posted on 2012-10-07 22:08:00
Tags: pictures travel
Words: 370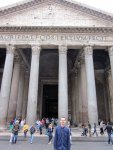 (click for more)

Friday 11 AM
The plan was to go to the Pantheon this morning, but when we woke up it was raining pretty hard, so we decided to wait out the rain. So, here are some general travel tips for Rome:
- The subway system is crowded but fast - we've never waited more than 4 minutes for a train. It goes a lot of places but there is an old part of town it doesn't go to (just east of the Tiber river), so you may want to get a bus map too.
- A Roma Pass is an excellent investment! You get unlimited public transportation for 3 days plus 2 free museum entries.
- Things are expensive - possibly even more expensive than in New York City.
- Meals, especially dinner, take a long time.
- Everywhere we've gone people have spoken at least a little English. I'm trying to work on my Italian but most of the time it's not necessary.
- People park wherever they want. Traffic is kind of terrifying!

3 PM
The rain stopped so we made our way to the Pantheon - very pretty!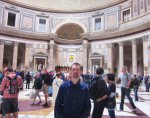 It didn't take as long as we thought to see it (it's pretty small compared to museums), so we wandered over to Piazza Navona and then over to an Irish pub (with WiFi!) for lunch. It seemed authentic - I had a Guinness and there was rugby on the TV. Afterwards we came back to the hotel to play a game and rest.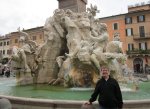 9:30 PM
We walked over to the Spanish Steps and sat and read for a bit, then headed over to a bar for dinner.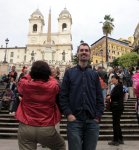 There's a TV showing news in Italian at our nearby subway station, and the text at the bottom said "Texas" and the images were pictures of UT! Later we read there was a bomb threat. I was surprised it made the news all the way over here...
We were going to go see a movie again but apparently it's dubbed in Italian so no dice. But, gelato later!

(later)
We stopped by a nearby video poker place and played a few rounds - it was a little confusing but we got the hang of it in time to lose 5 Euros.
links that made me angry
Mood: angry
Posted on 2012-10-02 11:36:00
Tags: politics links
Words: 185
So I read this month's The Atlantic magazine and there was this long article about Jim Bopp who believes the problem with money in politics is that there's not enough. Somehow it's even more frustrating that the guy seems to honestly think that unlimited contributions from anonymous sources is a good thing for democracy. And, post-Citizens United, he's totally winning! (other depressing articles in the issue: gerrymandering and voter suppression. Whee.)

Then I read this article about how the very rich feel "victimized" by Obama. A few of the people quoted compare Obama to an abusive spouse or, say, Hitler. My favorite sentence:
In 2010, the private-equity billionaire Stephen Schwarzman, of the Blackstone Group, compared the President's as yet unsuccessful effort to eliminate some of the preferential tax treatment his sector receives to Hitler's invasion of Poland.

And then, on a totally unrelated topic, this morning I read this article about sexism at software conferences, which for some reason is a kinda pervasive problem that really really shouldn't be happening.

And then I sighed and was sad for the rest of the day. The End.

Italy recap: Day 5 (Colosseum)
Mood: cheerful
Posted on 2012-09-30 21:58:00
Tags: pictures travel
Words: 381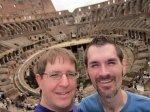 (click for more)

Thursday 5 PM
We slept in a bit and made our way down to the Colosseum, which is a pretty impressive building. Spent a bit walking around inside - there were a lot of informative displays, which was nice. (Fun fact: for a while they would flood the floor and conduct naval battles!) Afterwards with our newly-acquired bus map we took a bus to the Campo di Fiori, which is an outdoor market. After doing a little shopping, including a Balotelli jersey and turning down some "Bunga Bunga" sauce max, we sat down for some lunch just as it started to rain. Score! The lunch place had a TV showing a soccer match, which I eventually deduced was Inter Milan vs. AS Roma. The channel that was broadcasting the game had literally no information on screen - no score, no "who scored that goal", no "who got that yellow card", no "who is being substituted in". They didn't even show the final score when the game was over, although it was clear AS Roma had lost.

The WiFi at our hotel occasionally works now, but only occasionally, so I was using my international data plan when I saw I had a voicemail. Turns out it was from ADT saying our burglar alarm had been set off! I tried to call them but I wasn't able to make international calling work - luckily some friends checked out the house and it looks fine. (thanks friends!) [Ed: after a few more false alarms this past week we had someone come out and fix the system. Yay!]

We took the bus back to the hotel and then went out for some wandering - it started to rain harder so we ducked into a cafe and got some hot tea, from where I write these words. [Ed: and as I type these words I'm drinking hot tea! Although not in a cafe.]

Aside - we've seen a few places now a calendar called "The Vatican", but would be more accurately called "Attractive young priests doing things around the Vatican". Weird.

Aside - I swear, we were offered umbrellas by fifteen people on the mile walk back to our hotel!

Later

Walked around the corner for dinner, but it's been a quiet night other than that - resting and relaxing.
Italy recap: Day 4 (Borghese Gallery, opera)
Mood: cheerful
Posted on 2012-09-30 21:01:00
Tags: pictures travel
Words: 391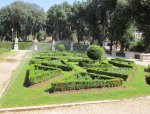 (click for more)

Wednesday 2:30 PM
Today was the Borghese Gallery (you make reservations for a timeslot - ours was 11 to 1). It was a bit of a walk to get there but was saw some nice parts of Rome, including the US embassy. We arrived early, which was good because first we had to wait in line for our (already bought) tickets, then in a line for an audio tour, then in a line to check our bag/cameras/phone. They seem very protective of the Gallery (although there were no metal detectors like in the Vatican), and after we entered we could see why - the place is absolutely stunning. Not terribly big as museums go, but many beautiful sculptures, paintings, and mosaics. My favorite sculpture was "Apollo e Dafne" by Bernini - Apollo has just caught Daphne, who is being transformed into a tree. David's favorite was "Paolina Borghese" by Antonio Canova, a sculpture of a member of the Borghese family reclining on a couch. And we got a kick out of the painting Danae by Correggio, which is so dirty in subject matter (according to the audio tour) that I won't describe it here (but ask me if you're interested!) Jupiter was a tricky god...

So the organization of the museum was a bit of a mess (it was unclear which line you had to wait in first) and the museum is on the small side, but I enjoyed it a lot. Afterwards we walked back, had lunch (and gelato!) and are resting for a bit before deciding what to do next - we have tickets to the opera (La Traviata) but nothing planned until then.

6:30 PM

We decided to walk down to the Time Elevator, which was a short movie about Rome with moving seats, "special effects" (i.e. wind blowing at you), etc. It was cheesy but fun. We also read the plot to La Traviata so hopefully we'll be able to follow along tonight, since it's presumably in Italian!

9:30 PM

La Traviata was good but we bailed early because it was in Italian, but also the theater was miserably hot with no A/C or fans. It was a nice little theater, though, with a bar inside so you could drink wine at your seat!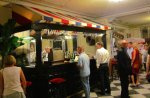 Then we had delicious gelato. (I should really end every day with that sentence!)
Italy recap: Day 3 (bus tour, Museo Capitolini)
Posted on 2012-09-27 20:24:00
Tags: pictures travel
Words: 283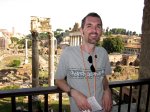 (click for more)

Tuesday 9 PM
Not having any particular plans today (and being somewhat tired from staying up for the movie last night) we decided to take it easy today, sort of. Slept as late as the hotel breakfast would allow, relaxed a bit (I'm getting a ton of reading done!) then decided to take a hop-on hop-off bus tour that the hotel recommended. We've gotten in the habit of taking these when we travel places - it's a great way to see the city with no stress about walking or finding our way around. It also stopped near the Museo Capitolini, which isn't too close to any subway stops. So we took the bus there and ate lunch, then went to the museum. It is (by some measure) the oldest operating museum in the world, and so the audio tour we got would talk not only about the art, but about the museum itself. The museum covers a lot of ground, and I fear I'm beginning to reach my limit with respect to art/history museums. (The Borghese Gallery is tomorrow, so I guess we'll see!)

After a few hours at the museum we were both fairly tired, so we got some more tea, sat down for a bit, then took the bus back near the hotel and had dinner. This evening has been reading and relaxing and writing and hopefully gelato later! The hotel WiFi has been down since we got here, so I used a bit of my international data plan (thanks AT&T!) so we could both check email.

After getting a good view of traffic from the top of a double-decker bus, I'm even more excited not to be driving!
Mitt Romney and the 47%
Posted on 2012-09-24 21:13:00
Tags: rant essay taxes politics
Words: 611
(yes, I realize I'm late on this, but dang it I was out of town when this happened and I'm not going to miss it!)

So! Mitt Romney said some things about people who don't pay income taxes last week. From the article:
Fielding a question from a donor about how he could triumph in November, Romney replied:


There are 47 percent of the people who will vote for the president no matter what. All right, there are 47 percent who are with him, who are dependent upon government, who believe that they are victims, who believe the government has a responsibility to care for them, who believe that they are entitled to health care, to food, to housing, to you-name-it. That that's an entitlement. And the government should give it to them. And they will vote for this president no matter what…These are people who pay no income tax.


Romney went on: "[M]y job is is not to worry about those people. I'll never convince them they should take personal responsibility and care for their lives."

A few things about this!

- It is true that 47% of people paid zero federal income tax last year. It is not true that these people paid zero taxes total. If you earn a wage, you pay payroll taxes. Everyone pays sales taxes. If you own a house, you pay property taxes. (and if you rent, part of your rent goes towards them) Most states have a state income tax. If you have a car, you pay registration fees, etc., etc., etc. Undoubtedly there are some number of people who don't pay any taxes (assuming they qualify for the Earned Income Tax Credit or some other refundable credit), but certainly not 47%.

- Fun fact - members of the military earn a lot of their income as tax-free!

- The statement that these people "will vote for the president no matter what", is clearly untrue. Taking a random national poll with crosstabs I could find, 43% of those that make less than $30K a year (which I think is a reasonable proxy) said they would vote for Romney. 43% is a lot bigger than 0%.

- More generally, people don't not pay any federal income taxes because they don't want to - they don't because they don't make a lot of money. I'm an agog at the logic here. Is he saying that people just don't want to get jobs? With unemployment still above 8%, and four job applicants for every open position, this is just hogwash. And somehow Mitt Romney knows that not only do they not want jobs, but they believe they're entitled to all sorts of things like, um, food.

- I don't even understand what he would change about this. Make sure everyone pays some taxes by eliminating things like the standard deduction and the EITC, one of the largest anti-poverty programs the US has? The only thing that makes sense is that he thinks people are choosing not to work because they're lazy and get food stamps. I just don't believe that's true in any sort of significant numbers.

- This is what class warfare sounds like, not things like "hey, maybe we should raise taxes on income over $250K or $1M" or something like that. No one (well, OK, not me) is saying that rich people are bad people - we just want them to pay their fair share. Taxes are not punishment.

- And, to be a little less fair, Mitt Romney is about the last person I want to talk to me about poor people. What does he know about their struggles?

(hey, Bill Clinton agrees with me!)

OK! I feel a little better now.

Why Nations Fail: The Origins of Power, Prosperity, and Poverty review
Mood: cheerful
Posted on 2012-09-23 16:23:00
Tags: reviews travel books
Words: 722

(I read this on vacation, and enjoyed it enough to write this review out longhand!)


Why Nations Fail: The Origins of Power, Prosperity, and Poverty by Daron Acemoğlu
My rating: 4 of 5 stars

This book attempts to explain why there is such a huge difference in income and standards of living between countries. Its thesis is there are two kinds of economic institutions in a country: extractive, which extract incomes and wealth from one subset of society to another, and inclusive, which encourage participation for everyone and lets people make choices. There are also extractive and inclusive political systems, which correspond roughly to how democratic the system is. Extractive political systems are highly correlated with extractive economic systems, and these are the poorer countries.

A lot of the book examines particular countries and how they got the way they are. For example, because there were existing native civilizations in Mexico and Latin America when the conquistadors arrived, they were easily able to make an extractive society by taking almost all of the existing wealth and income, and even today most of these countries are still fairly extractive. In the US, there were no societies for the English to enslave (although that was roughly their plan!) so instead the settlers had to start their own development, and they weren't willing to be enslaved. (I'm grossly oversimplifying here - the book goes into more detail)

Some interesting notes:

- One of the big reasons extractive economies don't do as well is that they don't allow the creative destruction of new technologies, since the rulers are getting rich off of the existing technologies.

- But, economies can still grow under extractive political systems, such as the Soviet Union from 1930-1960 (or China now). A centralized government can still allocate resources more efficiently than they were before, but not as efficiently as a free-market system. However, this can't last, and the author predicts China's growth will slow down unless their political system changes.

- There is both a virtuous cycle where inclusive economies/political systems tend to stay that way, and a vicious cycle where extractive economies/political systems do too. Even when extractive governments are overthrown, the framework is still there for whoever runs the country to make a lot of money and have a lot of power - this is known as the "iron law of oligarchy", and it's a good reason to worry about the countries that underwent the Arab Spring. Of course it's not guaranteed to happen - Japan is a good example that broke the cycle.

- There's an interesting contrast between Bill Gates and Carlos Slim. (the Mexican billionaire, currently the richest person in the world) Even at the height of Gates's power, Microsoft was sued by the Department of Justice and lost, even if the penalties weren't extremely damaging. Slim made his money by buying Telmex when it was privatized, and using its monopoly. Telmex has been found in court to have a monopoly, but Mexican law has the idea of "recurso de amparo" ("appeal for protection"), which is a petition saying the law doesn't apply to you(!). Slim has used this effectively. An anecdote - Slim bought CompUSA in 1999 and promptly violated a contract. The other company sued and won a big judgment against him in the US.

- Random: Convicts sent to Australia were sent to Botany Bay - the name of the starship Khan was exiled on! Why did I not know this?

- There's a section about how the US South was somewhat extractive during segregation. Alabama's constitution has a section requiring schools to be segregated (obviously not enforced anymore), but in 2004 it survived a vote in the state legislature! Sheesh.

- Control over the media is essential for an extractive system to survive. When Fujimori ruled over Peru in the 90's, he would bribe Supreme Court judges and politicians on the order of $5-10K per month, but he paid TV stations and newspapers millions of dollars!

Anyway, the book is quite good and I would have given it 5 stars, but it's a bit long. (which is great if you're trying to prove your thesis to political scientists (there are lots of case studies!) but less good for casual observers like me) If you're at all interested in the topic I'd recommend reading at least the first 3 or 4 chapters.


View all my reviews
books I read on vacation (minus one)
Mood: cheerful
Posted on 2012-09-23 16:05:00
Tags: reviews travel books
Words: 473
I read a lot of books on vacation. Here they are (minus one that gets its own post!)


In Search of Stupidity: Over 20 Years of High-Tech Marketing Disasters by Merrill R. Chapman
My rating: 4 of 5 stars

Basically a collection of tech companies doing stupid things in the 80's and 90's. Pretty entertaining and possibly helpful!


Anything for a Vote: Dirty Tricks, Cheap Shots, and October Surprises in U.S. Presidential Campaigns by Joseph Cummins
My rating: 3 of 5 stars

Summaries of every presidential campaign and how sleazy it was. (it's not an exclusively modern phenomenon!) Pretty entertaining although a bit long.




Be Good: How to Navigate the Ethics of Everything by Randy Cohen
My rating: 4 of 5 stars

Ethics advice that doubles as entertainment. I agree with him on most questions but not all (specifically, he recommended publicly posting salaries of other employees that someone happened to stumble across, which I think is a bad idea).




A Good Man Is Hard to Find and Other Stories by Flannery O'Connor
My rating: 3 of 5 stars

Interesting short stories - I feel like I didn't fully get the symbolism (maybe I'll do a little research) but they're definitely well-written and I enjoyed them.




Seven Keys to Baldpate by Earl Derr Biggers
My rating: 4 of 5 stars

Good mystery novel, although the language is a bit archaic.




The Little Book of String Theory by Steven S. Gubser
My rating: 3 of 5 stars

A good summary of string theory. A bit hard to follow even though I have a little physics background, but still informative.




Straight Man Gay by Danny Culpepper
My rating: 3 of 5 stars




The Agony Column by Earl Derr Biggers
My rating: 4 of 5 stars




The Price of Inequality: How Today's Divided Society Endangers Our Future by Joseph E. Stiglitz
My rating: 4 of 5 stars

Good book although a bit long and depressing for a vacation read. One thing I've heard people say is that there's nothing wrong with inequality - a rising tide can lift all boats. Unfortunately, in the US the rich have been getting richer while the middle class and poor have been doing worse. And Stiglitz points out that extreme inequality is harmful even on its own due to societal effects.




The Infinity Puzzle: Quantum Field Theory and the Hunt for an Orderly Universe by Frank Close
My rating: 3 of 5 stars

Interesting account of how we discovered Quantum Field Theory. I didn't quite understand all of it and I gotta be honest - particle physics is pretty crazy. I miss the proton + neutron + electron model, but progress marches on...




Flight Of The Intruder by Stephen Coonts
My rating: 3 of 5 stars




Silvio Berlusconi: Television, Power and Patrimony by Paul Ginsborg
My rating: 2 of 5 stars


View all my reviews

Italy recap: Day 2 (Vatican tour)
Mood: okay
Posted on 2012-09-23 15:08:00
Tags: pictures travel
Words: 691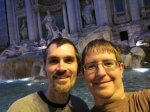 (click for more)

Monday 5 PM

Ahh sleep. I feel much better than yesterday, and the dizziness is almost entirely gone!

This morning we had breakfast in the hotel - the breakfast area is small but good enough, and I got a cup of tea to start my day which is always pleasant. (caffeine was a major reason I was able to stay up until bedtime yesterday!) We took the Metro over to the Vatican for our four hour(!) guided tour, and got there way early. Luckily we've been using our phones as portable Kindles - even in airplane mode it's wonderful having a bunch of books to read when we're out and about; it makes planning for things less necessary and stressful. I also got a cappucino at a nearby cafe; here the generaly way this seems to work is you order at the cashier, pay, then bring the barista your receipt. Hovering over the barista without a receipt accomplishes nothing (especially if you don't speak Italian!) as I've forgotten a few times now.

The tour was decent but long. (and we never stopped for any sort of break) The tour guide had a CB-like radio that he talked into and we all had earphones so we could hear, which is necessary since the Vatican is the most-visited museum in the world. An average of 20K people per day visit, and today seemed like no exception.

I had forgotten that there's a lot of ancient art in the Vatican, even (to my slight amusement) statues to Greek and Roman gods!

Unfortunately, the tour guide talked both too much and too little, so it was hard to figure out what was important/interesting about each room. But of course the art is amazing, so it was fine. After the tour was done at 2:30 we quickly found a lunch place and ate and rested for a bit, then came back to the hotel for a nap.

Aside - I was reading "Be Good" (a book about ethics) while we waited for the tour to start. Then on the tour, a woman with three kids, two of which rode in a stroller most of the time, was in our group. After a while of being on the tour I began to wonder whether it was ethical to bring the kids along. (and I swear I'm trying not to be a stereotypical kid-hating gay man - hear me out!) Firstly, there are a lot of stairs on the tour, so people had to help here carry the stroller around. The museum was also crowded, so it took longer for the group to get anywhere because of the stroller. The kids (who ranged from ages...umm, 4 to 9 maybe? I'm terrible at kid age estimation) were relatively well-behaved, but by the end they were getting loud and cranky. (not that I blame them - I was getting cranky too!) So, I dunno. I just hope that when she bought tickets she knew that there were a bunch of steps. And I'm not sure how much the kids got out of it anyway...

Aside - There are two rules in the Sistene Chapel - no pictures and no talking. (although I guess tour guides are allowed) These seem like reasonable rules - the no-picture one is not terribly common but not unheard of, and it is a chapel so I'm fine with the church making the rules. But - visiting the Chapel is a great way to lower your opinion of humanity - there is lots of noise (to the point where every few minutes the guards say shhh and "Silenzio!"), and lots of people taking pictures. Sigh.

Aside - I saw more than a handful of people taking pictures with iPads/other tablets. What's up with that? Cameras on tablets are generally terrible, right?

After a bit, we walked over to the Trevi Fountain, which was crowded but pretty. Then we ate dinner at a nearby restaurant where they presumably forgot about us, so it took an hour and a half. (dinners are slow here but usually not that slow!) Then we went and saw The Bourne Legacy with Italian subtitles - fun times! Now it is late.
Italy recap: Day 1 (travel, arrival in Rome)
Mood: tired
Location: home!
Posted on 2012-09-22 19:38:00
Tags: pictures travel
Words: 482
We're back from Italy! There will be many posts about the trip. This is one of them.

--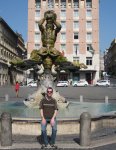 (click for more)

Saturday, somewhere over NYC, 5:30 PM Austin time

We're on our way to Italy! The first flight to Atlanta was pretty uneventful, and we had a bit of time in the airport to eat lunch (Arby's!) and walk around some. That is one big airport!

Unfortunately, we didn't get assigned seats on this flight - I tried to choose them last week but Orbitz's website errored out and wouldn't let me. So I'm sitting right behind a bulkhead, which means I don't get to put my backpack at my feet, which I hate. Also, David's sitting way in the back of the plane and we couldn't get people to switch. Oh well. I thought I didn't have a personal TV at first (since there's no seat in front of me), but it turns out I do.

The plan was to be tired today so we could sleep on the plane. Unfortunately, I don't sleep well on planes and now that I'm here I'm kind of excited, so I'm pretty sure I'm going to be exhausted "tomorrow". Also, I bought a ton of Kindle books so I feel like I should be reading, but instead of that or sleeping I'm watching "Mission: Impossible - Ghost Protocol". Oh well - vacation!

Sunday, 9 PM

Yup - exhausted today. But things generally went well. We landed in Rome, and after waiting half an hour for our bags we stopped in the airport for some breakfast - one of the nice parts of not having a schedule today is we didn't have to rush to our hotel. We took the express train to Termini (the main train station) and then the subway to our hotel. Sadly, Termini is under construction and it took a ludicrous amount of walking to get down to the Metro. Pretty sure six distinct escalators were involved. All told we walked more than two miles by the time we got to our hotel, which is small but nice.

Took a short nap and then I realized I was feeling pretty bad, probably because I was tired, hungry, and thirsty. Got lunch at a place right around the corner - I guess this is a touristy area (Piazza Barberini) because there are tons of restaurants around. Walked to an ancient art museum, but it was mostly closed. So we decided to make the trek out to a modern art museum, which involved a lot more walking than we had anticipated - hopefully the four hour Vatican museum tour tomorrow goes OK! Also, apparently in Rome "modern art" means 1800 and later. Came back and had a pizza and wine and gelato for dinner. Now: bed!

I'm been dizzy on and off today, which happened the last time I took an overseas trip (Germany in 2010). Hopefully sleep will cure it...
This backup was done by LJBackup.