Italy recap: Day 4 (Borghese Gallery, opera)
Mood: cheerful
Posted on 2012-09-30 21:01:00
Tags: pictures travel
Words: 391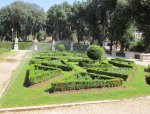 (click for more)

Wednesday 2:30 PM
Today was the Borghese Gallery (you make reservations for a timeslot - ours was 11 to 1). It was a bit of a walk to get there but was saw some nice parts of Rome, including the US embassy. We arrived early, which was good because first we had to wait in line for our (already bought) tickets, then in a line for an audio tour, then in a line to check our bag/cameras/phone. They seem very protective of the Gallery (although there were no metal detectors like in the Vatican), and after we entered we could see why - the place is absolutely stunning. Not terribly big as museums go, but many beautiful sculptures, paintings, and mosaics. My favorite sculpture was "Apollo e Dafne" by Bernini - Apollo has just caught Daphne, who is being transformed into a tree. David's favorite was "Paolina Borghese" by Antonio Canova, a sculpture of a member of the Borghese family reclining on a couch. And we got a kick out of the painting Danae by Correggio, which is so dirty in subject matter (according to the audio tour) that I won't describe it here (but ask me if you're interested!) Jupiter was a tricky god...

So the organization of the museum was a bit of a mess (it was unclear which line you had to wait in first) and the museum is on the small side, but I enjoyed it a lot. Afterwards we walked back, had lunch (and gelato!) and are resting for a bit before deciding what to do next - we have tickets to the opera (La Traviata) but nothing planned until then.

6:30 PM

We decided to walk down to the Time Elevator, which was a short movie about Rome with moving seats, "special effects" (i.e. wind blowing at you), etc. It was cheesy but fun. We also read the plot to La Traviata so hopefully we'll be able to follow along tonight, since it's presumably in Italian!

9:30 PM

La Traviata was good but we bailed early because it was in Italian, but also the theater was miserably hot with no A/C or fans. It was a nice little theater, though, with a bar inside so you could drink wine at your seat!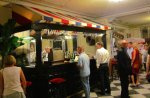 Then we had delicious gelato. (I should really end every day with that sentence!)
---
This backup was done by LJBackup.