Italy recap: Day 8 (Arrive in Florence, Galileo Museum)
Mood: happy
Posted on 2012-10-09 22:23:00
Tags: pictures travel
Words: 365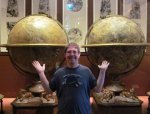 (click for more)

Sunday 9:30 PM
We're in Florence! This morning we ate breakfast, checked out of the hotel, and made our way to Termini (the train station) with all of our luggage. Luckily David had packed an extra duffel bag - we've already gotten a lot of souveniers! - but it's a bit of a pain to move it all around. We had plenty of time to walk around and get lunch, then we got on our train. It was a little crowded but the ride was very smooth, and it was an express so we got to Florence in an hour and a half. We walked to our hotel and after a few tense moments where they couldn't find our reservation (ack!), we got our room. The room is very nice (there's a fresco above the bed!) but sadly the TV channels are still poor and there's no WiFi in the room (although there is in the lobby).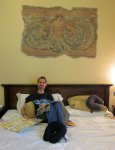 We were also planning to do laundry here, but instead of a laundry room they have a laundry service with the ridiculous prices you would expect of such a thing. So, we will *ahem* make do.

After unpacking for a bit we decided to walk over to the Galileo Museum. The center of Florence is very compact, so I think we're going to get by without using the bus, except for maybe some gardens that are south of the river. The museum is about as far away as anything from our hotel and it's only around a mile. (although: walking a mile, then walking around a museum, then walking a mile back can still be tiring!) We had around an hour before the museum closed and spent it all - there were a lot of cool old instruments and informative video demonstrations of how they worked. Definitely worth the trip!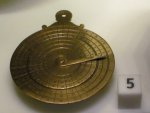 Afterwards we had dinner nearby, walked back to our hotel and are now on our nightly tea run. Florence is definitely a smaller city (around 450K compared to Rome's 4.5 million) and a lot of stuff seems to close earlier, although that could also be because it's Sunday night. So we got gelato earlier, just to be safe!
---
This backup was done by LJBackup.