Italy recap: Day 11 (Uffizi Gallery, movie theater)
Mood: tired
Posted on 2012-10-12 20:32:00
Tags: pictures travel
Words: 412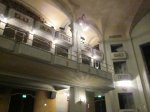 (click for more)

Wednesday 10 PM
The plan was to go to the science museum (really more of a geology/biology museum) this morning, but it was raining and neither of us were that excited about it - we assumed that most things wouldn't be labeled in English. So we stayed in and read and napped and then went out to lunch before going to the Uffizi museum.

The ticketing for the museum was a bit nonsensical. We had made reservations for 2:15, but we weren't sure where to go so we waited in a line, the culmination of which was being told to wait in a different line to exchange our reservation for tickets. But, in the line we had just waited in (which was quite short) you could buy "reservation" tickets for...right now. I'm not really sure what "reserved" means in this context, I guess. Anyway, we waited in line to get our tickets, then we waited in line to get in with our tickets.

The Uffizi museum is big - like really big. We went through at least 60 rooms of art, and probably more because some weren't numbered. There was some good art there (like Botticelli's "Birth of Venus") but I'm just not a person that can enjoy 3 hours of art, especially after all the other hours of art.

Afterwards we had a quick dinner and went to a 6:30 showing of "The Dark Knight Returns". The theater was very posh - it looked like an old one with a stage. Also, in the movie Alfred talks about vacationing in Florence and that's totally where we are!

That's about it exactly for our nightly gelato/tea where I saw that Juventus was playing Chelsea and by some miracle it was showing on one of the few channels we get in our hotel, so I watched the end of that game. Even saw a few familiar faces from the Italian national team on Juventus - Buffon and Chiellini (smiley guy)!

Florence is famous for its leather, and street vendors sell a ton of it - it can smell quite strong! David got a new wallet and a leather-bound notebook, and I'm considering a belt...

Hard to believe that tomorrow's our last full day here. Like any good vacation I had a great time but I'll also be excited to be back home. Tomorrow we have a pretty light day - taking a bus tour and spending some time in some gardens, assuming it doesn't rain again.
---
This backup was done by LJBackup.