spilling links
Mood: nervous
Posted on 2009-08-17 09:52:00
Tags: pictures palmpre projects links
Words: 128
Pictures from New Mexico and Barbara & Alex's wedding are up. Note that the pictures from the wedding itself aren't that great...I did my best!

Published a Pre version of PasswordHash - it was relatively easy to port. A new feature (in the web and Firefox versions as well) lets you force a special character to appear in the password.

Apparently men who "strongly endorsed old-school notions of masculinity" were half as likely to get flu shots and other preventative medicine. Can't say I'm surprised.

Also, "for men, sexual boredom was correlated with variety in partners (or lack thereof), while for women, it was more related to variety in activity." Good to know? (the Coolidge effect description at Wikipedia is pretty funny)

Finally, an Obama protest I can get behind.
link friday
Mood: okay
Posted on 2009-08-14 13:26:00
Tags: gay politics links
Words: 97
A 3D animation of the Hubble Ultra Deep Field - pretty cool!

Someone diagrammed out a Choose Your Own Adventure. It turns out you're fairly likely to die!

If you like cuddly subatomic particles, you could do worse than the Particle Zoo. I would imagine it's Sheldon-approved.

Bill Clinton talks about Don't Ask Don't Tell and DOMA.

The American Conservative Union hit up FedEx for money for support on a bill, and when FedEx didn't bite, they recommended UPS instead. Shady!

An interview with Jim McGreevey, five years after he came out and resigned the New Jersey governorship.
slideshow comments
Mood: busy
Posted on 2009-08-11 14:15:00
Tags: palmpre projects
Words: 75
Did a quick project so that GLSlideshow (my screensaver), which currently shows random pictures from my gallery, would show the comment on the picture as well. Wrote it up here but there are no demos or anything so it's not very exciting :-)

Played around with the Palm Pre API last night, and I feel like I have my legs under me and can start making things that are actually neat rather than just toys. Exciting!
Palm Pre review
Mood: cheerful
Posted on 2009-08-10 14:27:00
Tags: reviews palmpre
Words: 1009
I've been using my new Palm Pre for just over a week. My old phone was a Nokia 62xx something and was pretty terrible, so I'll mostly be comparing it to David's iPhone 3G. (which of course I don't have a ton of experience with) Here are my thoughts, roughly in order from good to bad:

OS: WebOS is really pretty wonderful. One of the big advantages is being able to run multiple applications at once - you can get by on the iPhone without this, but the way I'm used to doing things it feels much more natural. In WebOS open applications look like cards, and you can switch between them with a flick of the finger, or close them by flicking them up off the screen.

Another nice thing is the way they do notifications - for example, when I get a new mail message, a little banner pops up in the bottom of the screen with the subject, and then it shortly collapses to a small icon in the bottom right corner which I can later touch to see the subject. It does the same thing for voicemails and calendar alerts, and it's a very slick way of letting you know something happened without totally interrupting you.

There's a menu you can open by touching the top right that shows you percentage battery life, and lets you configure WiFi, Bluetooth and Airplane Mode. Whereas the iPhone has a modal popup every time you get in range of a WiFi network, for the Pre you'd have to go to the menu to connect to one. I think I like the Pre's way better as I found the popups annoying on the iPhone.

Calendar: Integrates nicely with Google Calendar, which I use - I get notifications on the phone and it's easy to browse. Yay!

Email: I get push email from Gmail which is awesome. The mail client itself is decent - I can see my labels, and clicking on a link opens the web browser like you'd expect.

Browser: The browser is generally fine. Has the same pinch/unpinch for zooming as the iPhone does. Sadly the scrolling (both here and in other apps) just doesn't feel as smooth as the iPhone's. I also really wish there was a way to open a link in a new card - there used to be an arcane key combination (orange button + space + click, maybe?) but it got removed in the WebOS 1.1.0 update.

Keyboard: The physical keyboard is small but functional. I like it a little better than the iPhone's keyboard - the tactile feedback is really nice to have. On the other hand, you can't really use it in landscape mode, since obviously it rotated with the phone. The keys are pretty small but I've gotten used to them and can type at a reasonable rate.

Having extra keys (orange, symbol, shift) is nice, but it means it can be a bit of a crutch. For example, to delete an app from the launcher, you have to hold the orange button and click it. Apple can't do this with the iPhone, so they had to find a more intuitive way of allowing this, which in the end benefits the user.

Contacts: They have this neat system called Synergy that can download your Google, Facebook, and AIM contacts (and Microsoft Exchange, but I didn't try that). The good news is that this is pretty neat and it tries its best to merge contacts that are actually the same person. The bad news is that, at least in my case, there were still a ton of contacts (AIM in particular) that didn't get merged, so I had to go through and manually do that. Which was kind of a hassle.

But still, the nice thing is that since it knows the merged contacts are all the same person, you can continue conversations you were having over AIM and switch to SMS or email fairly seamlessly. I haven't had a chance to actually try this but the demo I saw looked neat. Also, it downloads Facebook contact pictures which is a nice plus.

Launcher: The launcher is kinda OK. There are only 3 screens with apps on them which mean they can get kinda long. One nice feature is that you can start typing while the launcher is open and it will search through all your apps and contacts (this mitigates the 3 screen limitation somewhat). If you type something that has no matches it will bring up options to search on Google, Google Maps, Wikipedia, and Twitter which is nifty.

Messaging: I haven't done this much at all (it's really annoying at work getting my IMs on my phone) but the times I used it it worked fine.

Apps: The App Catalog currently has only 32 apps - they haven't really opened the door yet, but what's there is decent. There's Tweed (a nice Twitter app), Pandora, a stock ticker and a few others. Happily, their SDK is now available and it's pretty easy to install apps on the phone, so I'm looking forward to testing it out with a few simple apps.

Other apps it ships with: Google Maps (works about the same as the iPhone version, including builtin GPS), the requisite YouTube app, Amazon MP3 (yay!), and PDF and Office file viewers.

It comes with some Sprint apps, too, like Sprint Navigation (provides turn-by-turn directions with speaking!) and Sprint TV which I've only played with a little but seems to have a decent selection of TV shows (most require payment) and radio stations.

Battery Life: The battery life is honestly pretty bad. Usually I end the day at around 50% battery life which is reasonable I guess. Leaving the phone on in areas where signal strength is low seems particularly hard on it. (i.e. inside the Austin Convention Center) It was terrible the first few discharge cycles but things have gotten to a point now that I can live with it.


I've been happy with my Pre, and I'm looking forward to developing apps for it!
Things I learned from the books I read on the honeymoon:
Mood: silly
Posted on 2009-08-08 18:37:00
Tags: honeymoon books
Words: 424
Emergency: This Book Will Save Your Life - When the shit hits the fan (or WTSHTF, as the author uses) I have few useful skills. But I think I'm OK with that.
All the President's Men - The Watergate scandal was really complicated and really hard to unravel. It makes me sad that newspapers are dying.
The Skeptical Economist: Revealing the Ethics Inside Economics - People are not rational (in the economic sense) at all. Baumol's cost disease is important. Maybe instead of measuring GDP we should measure and optimize total happiness, although actually trying to do that is impossible.
SkyMall magazine - "No food better celebrates this great country than hot dogs."
My American Journey - A clear objective is a necessity to deploy the armed forces. Colin Powell is awesome.
The American Idea: The Best of the Atlantic Monthly - LBJ was obsessed with money. JFK was on a lot of medications. Lots of famous people (Mark Twain, Ernest Hemingway, Booker T. Washington, Ralph Waldo Emerson, Henry David Thoreau, Albert Einstein, Robert Frost, Helen Keller, Walt Whitman, JFK, etc.) wrote articles for The Atlantic.
Murder in the Rue Ursulines: A Chanse MacLeod Mystery - Umm, New Orleans is neat? (this was a murder mystery)
Make No Law: The Sullivan Case and the First Amendment - NY Times v. Sullivan was an important Supreme Court decision. The First Amendment is pretty awesome.
Mahu Fire: A Hawaiian Mystery - ...fires are bad? (another murder mystery)
The Trouble With Physics: The Rise of String Theory, The Fall of a Science, and What Comes Next - The last 30 years have been a dry spell for particle physics. String theory as it stands now is not verifiable or falsifiable, but it's very popular and hard to get a job if you're not researching it, so maybe we should spend more time on different ideas?
The Unlikely Disciple: A Sinner's Semester at America's Holiest University - Liberty University has some crazy crazy rules. But, such strict discipline is generally good for people. The students, while pretty fundamentalist, are generally nice and not nearly the slaves to the Republican Party I expected. There is a lot of homophobia at Liberty, sadly. Jerry Falwell, for all his flaws, was no phony.
Free Culture: The Nature and Future of Creativity - Copyright law has been vastly expanded in the last 100 years, giving it control of many more aspects of how we consume media. DMCA = bad.
Hawaii & Its People - Hawaiian history is pretty interesting.

(these books are available for borrowing)

Here ends the steady stream of honeymoon posts - 12 in 6 days!
Honeymoon quick wrapup
Mood: accomplished
Posted on 2009-08-08 18:24:00
Tags: pictures honeymoon travel
Words: 114
We had a very nice honeymoon. Hawaii is a really beautiful place. Maui is great for relaxing and sightseeing, and Oahu seems nice for shopping and whatnot.

We kept too busy on Maui. I don't regret anything in particular that we did, but we should have scheduled fewer activities and had more relaxing/recovery time. It's been a while since we had a vacation that we planned for ourselves, so hopefully we'll remember it for next time.

Amazingly, I didn't get seriously sunburned!

Stuff we didn't do this time but I'd like to do next time:
Maui: Surfing lessons, parasailing
Oahu: Polynesian Cultural Center, swimming with the dolphins at Sea Life Park

Full honeymoon pictures: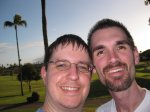 post-honeymoon link friday
Mood: cheerful
Music: Bobby McFerrin - "Wanna Be"
Posted on 2009-08-07 10:15:00
Tags: wedding politics links
Words: 138
If you haven't seen it, here's a time lapse version of our wedding.

Bobby McFerrin demonstrates the power of the pentatonic scale in a neat way. Wow, he's looking old! I will always love him for his song on Square One.

These slides on Netflix's corporate culture are really really impressive.

Wal-Mart goes after the Girl Scouts - as is usual with Wal-Mart, theoretically good for its customers, bad for everyone else.

Rick Sanchez goes after a health care CEO who's against reform.

If you're interested in publishing your own games, TheGameCrafter.com is kinda like CafePress, but for games.

Spot the cyber-security tip that seems a bit out of place...

Speaking of Netflix, now that the Netflix Prize is over, their CEO says there will a Netflix Prize 2 coming soon. Cool! Perhaps I will be sucked back in...
An open letter to my phone
Mood: irritated
Posted on 2009-07-16 21:52:00
Tags: rant wedding
Words: 176
Phone:

Hi! How's it going? It's me, your owner. I mention this because it seems like we've lost touch. I was kinda busy today, and got no fewer than 3 phone calls and one text message. Does that ring a bell? I'm guessing no, because I didn't hear about any of these when they happened. The text message I didn't get until hours later! And thank goodness the people calling left a voicemail, otherwise who knows when I would have heard about it?

We've had some good times, you and me, but there's this new phone out called the Palm Pre. Actually, calling it a "phone" doesn't do it justice, but I'm willing to wager it still does such banal things like ringing when it's being called. And today they released an SDK for it which means I can write cool programs and stuff.

So enjoy our time together while it lasts, phone. We're taking this trip to Hawaii soon and I'm thinking the bottom of the ocean might be an appropriate resting place for you...
what a weird day
Mood: stressed
Posted on 2009-07-16 16:26:00
Tags: wedding
Words: 47
Still kinda stressed in general, but of the actual stuff we have to do, everything's going fine. We did at least get Sonic drinks, so that's a plus! Later tonight is dinner with the family/dropping off some clothes/maybe buying some tea/picking up a friend at the airport...
pre-wedding links
Mood: nervous
Posted on 2009-07-15 13:10:00
Tags: reviews gay books politics links
Words: 202
The Episcopal Church voted to start putting together same-sex blessing ceremonies, which, you know, would have been awfully convenient. But still awesome!

In news that should surprise no one, scientists are way more likely to be Democratic than Republican, like 55%-6%.

The sequel to Pride and Prejudice and Zombies (my review here) has been announced: Sense and Sensibility and Sea Monsters!

I recently bought a few comic books (or "graphic novels"?) after rewatching V for Vendetta and liking it. Quick thoughts, in the order I read them:

Batman: Year One
- shorter than I expected but still pretty entertaining.

V for Vendetta
- I was disappointed. The book is really long, and while there are some differences between the book and the movie, I mostly (horrors!) prefer what the movie did. I also found it somewhat difficult to tell what the hell was going on.

Batman: The Killing Joke
- The artwork is really nice and I enjoyed the story. Wish it was longer (it was only 50some pages)

Batman: The Dark Knight Returns
- Only halfway done (it's long!) but I'm enjoying it.

Anyway, after absolutely loving Watchmen
my interest in comic books has kinda subsided - they're fun but not something I'm hugely interested in.
link friday!
Mood: groggy
Posted on 2009-07-10 09:58:00
Tags: movies programming links
Words: 380
And since it's 8(!) days until the wedding, presumably my last one as a swinging bachelor.

This fascinating NY Times graphic shows the various business cycles and the recession we're in now. And maybe some hope that things will be better in 6 months.

A 60 foot Gundam robot has risen in Tokyo. I really really hope this is real.

Short article on the 40th anniversary of Stonewall. Found this surprising:
In 1966, three years before Stonewall, Time, then the voice of middlebrow, middle-class respectability, published a long essay on "The Homosexual in America." The magazine, while acknowledging that "homosexuals are present in every walk of life," concluded that homosexuality

is a pathetic little second-rate substitute for reality, a pitiable flight from life. As such it deserves fairness, compassion, understanding and, when possible, treatment. But it deserves no encouragement, no glamorization, no rationalization, no fake status as minority martyrdom, no sophistry about simple differences in taste—and, above all, no pretense that it is anything but a pernicious sickness.

Sacha Baron Cohen's (Borat, Ali G, etc.) new movie Bruno comes out today- this character is a gay fashion person or something. He went out of character on Letterman describing how he interviewed a terrorist. Salon thinks it's bad for the gays, Slate thinks it's good for the gays, and Ebert surprised me by liking the movie.

Ricky Gervais's The Invention of Lying looks like a good movie, and it has "every other Hollywood actor and comic in the world" (Patrick Stewart! Tina Fey! Jason Bateman and Jeffrey Tambor! John Hodgman!)

Cool jQuery plugin to dynamically make nice-looking graphs - uses the new canvas feature, like my marriage map does. Wish I had thought of this!

California v. Texas - take that, California! Although
Despite all this, it still seems too early to cede America's future to the Lone Star state. To begin with, that lean Texan model has its own problems. It has not invested enough in education, and many experts rightly worry about a "lost generation" of mostly Hispanic Texans with insufficient skills for the demands of the knowledge economy. Now immigration is likely to reconvert Texas from Republican red to Democratic blue; Latinos may justly demand a bigger, more "Californian" state to educate them and provide them with decent health care.
Optimizing iTunesAnalysis: faster database access
Mood: tired
Posted on 2009-07-09 09:44:00
Tags: optimization essay projects programming
Words: 280
The second in an occasional series
Idea: Now I'm focusing on improving the time to insert the iTunes data into database. Where we left off last time, our script took 71 seconds to run, ~50 seconds of which was database operations. The idea I had to speed this up was to batch a bunch of queries together and thus make fewer calls to the database. It turns out this actually slowed things down.

So I did a little research and it turns out if you insert data with the same query structure over and over again (but with different bind variables), the database doesn't have to reparse the query which speeds things up a lot. I tried doing this with pyPgSql but couldn't find any documentation how it was supposed to work, so I switched to using psycopg2 and changed the query for inserting the playlist data. Just switching to a psycopg2 sped things up a lot, it seems. I tried switching to a similar sort of query for inserting track data, but that actually slowed things down.

Anyway, the new script runs in 25 seconds, and it looks like only around 9 seconds for database operations. This is a 400% speedup in the database time! Overall, this step improved performance by ~180%, and since we started at 114 seconds we've improved ~350%.

Conclusion: Another big success, and I'm not sure how much more I can squeeze out of the iTunesInfo.py script. Next time I'll focus on the analyzedb.py script, which does the analysis from the database - right now it's taking between 5 and 12 minutes to run on my library of 6400 tracks.

Source files:
- old script
- new script
Optimizing iTunesAnalysis through smarter parsing
Mood: geeky
Posted on 2009-07-08 10:31:00
Tags: optimization essay projects programming
Words: 631
The first in an occasional series
Intro: A while back I wrote a script to analyze an iTunes library and find your favorite artists, albums, etc. It works pretty well and I regularly use it to update my own analysis. Unfortunately, it generally takes a long time to run, which is sort of OK for me (because I just start it running and go do something else) but less good for people who are running the analysis through the web site.

So I'd like to make it run faster, and I have a number of ideas to do so.

Idea: There are two main parts to the system - parsing the iTunes Music Library.xml file into a database, and running the analysis on the database. First I'm focusing on the parsing part.

The first version of the parsing script uses Python's xml.dom.minidom package to completely parse the library file.

After profiling the first version by running python -m cProfile -o profiledata.oldway iTunesInfo.py "iTunes Music Library.xml", I see that the whole parsing process takes 114 seconds. The major parts of this are 60 seconds for the xml.dom.minidom.parse method and 46 seconds for the database operations. Note that this only leaves ~8 seconds for figuring out the track information - clearly this is not the bottleneck!

So I'd like to improve parsing speed. There are two basic kinds of XML parsers - what we're using now is a DOM or Document Object Model-style parser, which means that the parser reads the entire file in and returns a parsed structure containing all the data. (I remember writing a simple XML parser that did this as a project in COMP 314. Ah, memories...) The advantage to this method is that after the parsing is done, it's easy to traverse the DOM tree and find the data that you're interested in. The downside is that, well, it's slow. Also, the entire document has to be read into memory which means that your memory usage is proportional to the size of the file you're processing, which adds to the slowness and can lead to out of memory problems on huge files (although we weren't seeing that here).

The other basic kind of XML parser is known as SAX, or Simple API for XML. You provide callback functions that are called whenever the parser runs across the start of a tag, end of a tag, character data, and...that's it. Whatever processing you want to do you have to do in those callback functions. So if you're just, say, counting the number of <key> tags in a document this works really well. It's also much faster than the DOM-style parser, since it doesn't have to generate a giant tree structure. But doing the sorts of processing we're doing on the library file seems a bit more tricky.

Anyway, I take a stab at it, and after a bit end up with version 2 of the script. Notice that the logic in the Handler class is a bit twisted - we have to keep track of where we are in the document (so if things get out of order we'll have problems) and use a state-based system which is a bit brittle and unclear.

But how does it perform? The old version of the script ran in 114 seconds, and this version runs in 71 seconds for a ~60% increase in speed. But really, it's better than that, because the database operations still take around 50 seconds - if we subtract that from both we get 64 seconds versus 21 seconds which is a ~200% increase in the speed of the parsing.

Conclusion: This was a big success! Most of the time is now in the database layer, which I have some ideas for speeding up next time.

Source files:
- old script
- new script
weekend, life update
Mood: okay
Music: Nine Inch Nails - "The Perfect Drug"
Posted on 2009-07-06 13:08:00
Tags: health wedding links
Words: 222
Thursday I went tubing with some people in New Braunfels. I'm generally not super excited about water activities, but it was fun and relaxing. It was also really, really hot. I didn't fully reapply suntan lotion while floating down the river (not really sure why I didn't, except that I didn't feel like I was burning) , and thus I ended up horribly sunburned on most of my chest, upper legs and feet.

I've been using some aloe lotiony stuff which helped a lot, but even still it's still sensitive and (worst of all) itchy, especially at night. Saturday night I took a Benadryl which successfully knocked me out, and last night I tried to get by with just some cortisone cream. Gave up on that after a while of itching and not sleeping and took the Benadryl, but it didn't work as well...got to sleep after about an hour and didn't sleep well. (neither did djedi, for unrelated reasons)

12 days until our wedding! Everything seems in order and we're keeping up with our todo list but I'm still generally stressed. Picked up honeymoon tickets, etc. today and I'm looking forward to that part :-)

A somewhat rambling but interesting talk by Stephen Fry about America's place in the world.

Propaganda posters for World War III. I think this one is my favorite.
happy 9 years!
Mood: cheerful
Posted on 2009-06-30 10:22:00
Tags: links
Words: 148
And on the same day of my 1000th LJ post! Clearly this is an auspicious day. Except for the fact that I broke a glass this morning :-(

Firefox 3.5 is out today! Looks like it's not automatically updating yet. I've been beta testing for a while and it's speedier and more responsive than Firefox 3. You can see some of the new features here.

I'm becoming somewhat obsessed with the Palm Pre - been reading reviews from Engadget and Gizmodo (here's the flash-heavy Sprint page) and I'm kinda excited about it, although I'm under contract with T-Mobile until March. I even signed up to develop an app for it - gonna try porting whereslunch.org to it and see how easy it is...

Sometimes I step back and marvel that I can buy 16 GB of storage that fits on my keychain for $35.

Internet is out at home until Friday.
Games database
Mood: cheerful
Posted on 2009-06-27 20:20:00
Tags: projects programming
Words: 58
Just got done working on a database of the games we own. Not everything we own is in there, but most of it is, and I'll try to get the rest added soon. You can search based on number of players and the length of the game. Give it a shot and let me know what you think!
linky in spirit
Mood: cheerful
Music: Michael Jackson - "Black or White"
Posted on 2009-06-26 10:58:00
Tags: movies gay politics links
Words: 305
We watched Dial M for Murder last night. I had high hopes for it, having enjoyed Hitchcock's "North by Northwest" a few weeks ago, but this was even better! The opening 15 minutes or so were packed with tension, and although sometimes older movies don't hold up today since their twists have become terribly commonplace, this one holds up quite well. Highly recommended.

The Alamo Drafthouse had a tribute Michael Jackson singalong last night, and they say there will be more this weekend. I went to one of these in 2005 and it was a lot of fun.

Supreme Court rulings: strip-searching a 13 year old because you think they have Advil = very not OK (Clarence Thomas was the lone dissenter), and crime laboratory technicians must testify to admit lab results into evidence, which sounds like it might be a fairly large change. That was a 5-4 ruling with an odd majority: Stevens, Souter, Ginsburg, Scalia and Thomas.

If you're interested in the Supreme Court (and who isn't?), here's a chart of the justices' ideology over its history, which explains why seeing Stevens and Thomas agree on anything is pretty weird.

The DNC gay fundraiser I mentioned last week happened, and apparently Joe Biden gave a good speech and got a lot of applause. But it's hard to read this:
He said that gay and lesbian concerns will not be "delayed, put off or not end up on [Obama's] plate" because he is dealing with so many other issues.
since that seems to be exactly what's happening. I appreciate that they're pledging to repeal Don't Ask Don't Tell and the Defense of Marriage Act, but talk is cheap.

For you non-Austinites: it hit 107 degrees yesterday at the airport, and it's supposed to get up to 106 today. It is very very hot. Pity us!

craving HDL
Mood: excited
Posted on 2009-06-18 09:31:00
Tags: health work
Words: 91

I had a physical yesterday, and like last time my HDL is still low. (it's 28...somethings and normal is 40...somethings) The good news is that my triglycerides and LDL were normal this time. Oh, and I need to lose some weight, which I already knew.

I got my results on a nice little sheet with the normal values and what I could do (non-medicationwise) to improve the values. On literally every measure, the first two items were "Lose weight" and "Exercise more". Um, great.

Also, I moved at work today! Exciting.

teh gays !<3 Obama
Mood: irritated
Posted on 2009-06-17 16:08:00
Tags: gay politics links
Words: 230

Last week the Department of Justice filed a brief defending the Defense of Marriage Act. Now, DOMA is the law and the Justice Department is required to uphold the law (although apparently previous DoJ's have published opinions saying they thought laws were unconstitutional), but the brief itself is pretty terrible - saying DOMA is consistent with equal protection, comparing it to laws banning incest, saying the right to marry isn't fundamental when it comes to marrying someone of the same sex. And according to Robert Gibbs (the press secretary) Obama stands behind the brief

So. This pissed a lot of people off. There's been a lot of unhappiness already about the lack of movement on DOMA and Don't Ask Don't Tell, and even the HRC published a kinda mad letter. A lot of people are pulling out of a DNC gay fundraiser next week. People generally feel betrayed.

Presumably to address these issues, Obama announced the he would grant same-sex benefits to federal employees, which is great except that said benefits don't include health insurance. Although it does include relocation assistance. Which is, ahem, something.

Anyway! Rant over.

A story of homeless Sims in The Sims 3. The narrative is pretty touching.

GameFAQs recently ran a Best Game Ever bracket, which Zelda: Ocarina of Time won. I was happy I've actually played a lot of the games in the final bracket!

filllllings...nothing more than fillllllings...
Mood: happy
Posted on 2009-06-16 10:04:00
Tags: health gay politics
Words: 142

I went back to my new dentist at Shoal Creek Dental Care - the cleaning I had took a while but was much more pleasant than usual, and I got a tooth filled yesterday in 20 minutes, which is awesome. And my cheek/gums didn't hurt after the numbing wore off! I am quite pleased.

Courtesy of FiveThirtyEight, I found this awesome chart: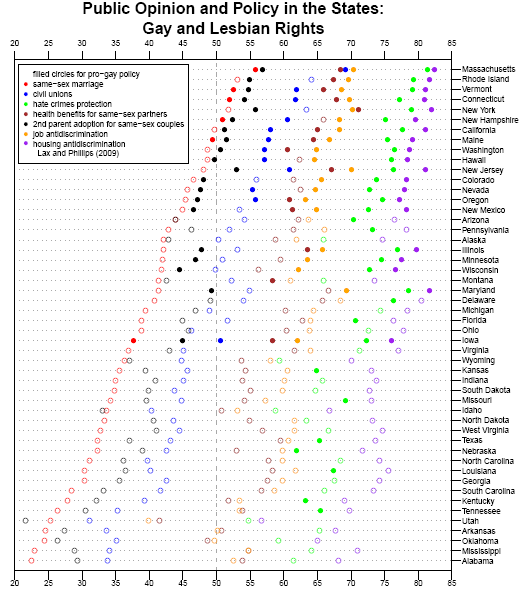 Some interesting things:
- Housing antidiscrimination is the most popular policy in all 50 states, but it's only been enacted in 20 states. My guess is that it's something that people don't run into that often (we've looked for housing in MD and TX and never felt discriminated against) so there's not much impetus to pass it.
- Bully for Iowa's Supreme Court, but I'm worried about marriage being overturned there.
- Obvious next targets for marriage: NY, RI, and CA (oh the irony!)
better living through science
Mood: geeky
Music: that "Jai Ho" song
Posted on 2009-06-12 15:32:00
Tags: essay links
Words: 218
A while back I wrote a script to analyze our GnuCash account. A few months ago, I added a quick little feature to predict how much money we're going to spend this month - basically just taking the existing values and extrapolating to the end of the month, disregarding stuff that is largely the same like the mortgage payment and bills. So every time I run the script I get an updated projection of how much money we'll spend this month.

For something so simple, it's surprising how it's changed my behavior. I'm very much more conscious about spending money now, and last month we spent the least amount we have in a while. Of course, that's just one data point. It's similar as the idea behind the Google PowerMeter - if you can measure something well you're more likely to think about it more and conserve when you can.

In a similar vein, the Wall Street Journal writes about not getting enough sleep and a device called the Zeo which tells you how well you slept the next morning. Again, the idea is that you can try out different things (cutting out caffeine longer before bedtime, etc.) and see how they affect your sleep patterns. Cool stuff! Yet another study shows that sleep is important and helps you learn.
just this guy, you know?
Mood: busy
Posted on 2009-06-10 11:49:00
Tags: gay politics links
Words: 99
A new poll came out showing that 69% of Americans favor allowing openly gay people in the military - up from 64% 5 years ago...and even 58% conservatives support it! For a point of comparison, when Truman integrated the army only 13% of the population supported it. Stephen Colbert is doing his show from Iraq this week (in front of troops) and last night did a segment on Don't Ask, Don't Tell which was pretty ballsy.

25 Great Calvin and Hobbes Strips

Remember that long health care article? Turns out Obama read it too and is taking it pretty seriously.
I'm in a hurry to get things done...
Mood: stressed
Music: Dave Matthews Band - "Funny the Way it is"
Posted on 2009-06-05 13:34:00
Tags: politics links
Words: 166
Obama gave a big speech in Cairo yesterday - here's the full text and the hour-long video. Pretty impressive and even-handed.

Yesterday was the 20th anniversary of Tiananmen Square, and the Chinese government tried to block foreign reporters from recording by...using umbrellas.

New Hampshire passed a same-sex marriage bill into law this week, leaving Rhode Island as the only New England state that hasn't legalized it. Which is pretty crazy when I stop and think about it. The map is turning more green!

A long article about gay marriage from a Burkean conservative point of view.

Loving Day, the anniversary of the Supreme Court striking down anti-mixed race marriage laws, is this weekend.

Cool guys don't look at explosions (video).

A long "screenplay" about how hard it is to get security right - this really opened my eyes!

Pixar vs. the Rest, or "Pixar movies, they make a lot of money and people like them".

Stem Cell Contact Lenses Cure Blindness in Less Than a Month - um, wow.
other odds and ends
Mood: distracted
Posted on 2009-06-02 10:49:00
Tags: movies worldofwarcraft links
Words: 259
As a wedding present from djedi I got a new monitor! Whereas my old one could fit 4 xterms without overlapping, the new one can fit 9 (and 12 with just a little overlap). This makes a huge difference when I'm programming - being able to see larger sections of the file I'm working on (and having more xterms open in different directories, etc.) lets me get distracted less by switching between virtual desktops, etc. Also, the screensaver of pictures looks much more impressive :-)

We saw "Up" on Saturday (in 3D, no less). It was sweet - the first five or so minutes were really really great. I hope I can be Ellie to David's Carl. Or something. Overall I liked it but less than Wall-E and The Incredibles.

Last night we put in 10 or so attempts on Hodir and got him down to 23% or so. It's pretty overwhelming at first - I have to find the fire and stand near it, avoid icicles, dispel frost novas, heal like crazy through the frozen blows, and not screw up the flash freeze. I got pretty good by the end except at the avoiding icicles while healing through frozen blows. Maybe next time...

If you installed .NET framework 3.5 SP1, you probably got an unwanted silent installation of a Firefox addon that makes it less safe - the link has directions on how to remove it. That kinda sucks.


This whole post is really just an excuse to post this short video which I won't spoil. Also: 100 movie lines in 200 seconds.
Yeah, yeah, my heart's in a whirl
Mood: okay
Posted on 2009-06-01 11:53:00
Tags: gay politics links
Words: 145
May had some high points, but overall it kinda sucked, what with being stressed out with work stuff all the time. June looks to be somewhat better, but still stressful. July will be hectic for 17 days, then awesome, then more awesome. (August will be extremely stressful for about 4 days, then presumably back to normal) This would all be more managable if I hadn't been so moody. Hoping that goes away when the stress is gone.

This is a terrible, terrible attack on Sotomayor. Something tells me G. Gordon Liddy thinks women shouldn't hold any positions of power anywhere.

Bing is Microsoft's new search engine. It seems decent so far.

Nevada gets domestic partnerships (over the governor's veto) and Illinois's civil union bill makes it out of committee but not to the house floor although it's still possible it will in a special session.
This backup was done by LJBackup.