Honeymoon quick wrapup
Mood: accomplished
Posted on 2009-08-08 18:24:00
Tags: pictures honeymoon travel
Words: 114
We had a very nice honeymoon. Hawaii is a really beautiful place. Maui is great for relaxing and sightseeing, and Oahu seems nice for shopping and whatnot.

We kept too busy on Maui. I don't regret anything in particular that we did, but we should have scheduled fewer activities and had more relaxing/recovery time. It's been a while since we had a vacation that we planned for ourselves, so hopefully we'll remember it for next time.

Amazingly, I didn't get seriously sunburned!

Stuff we didn't do this time but I'd like to do next time:
Maui: Surfing lessons, parasailing
Oahu: Polynesian Cultural Center, swimming with the dolphins at Sea Life Park

Full honeymoon pictures: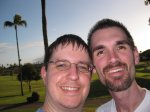 ---
This backup was done by LJBackup.