Posts with mood relaxed (23)
Red Rabbit review
Mood: relaxed
Posted on 2014-09-16 21:56:00
Tags: reviews books
Words: 154
Red Rabbit by Tom Clancy
My rating: 3 of 5 stars

I thought the book was pretty good, although in retrospect it was kind of repetitive. Some other things I didn't like:

- The book was written in 2002 but set in 1982 (a sort of prequel), and it gets way too clever about "predicting the future": Jack Ryan thinks that Japan is going to go into recession! He invests in Starbucks! He has a good feeling about Cal Ripken, Jr! (and all of these get mentioned multiple times) I understand the temptation to do this, but do it more than once and it just gets irritating and takes me right out of the book.
- I'm guessing that Clancy was a bit right-wing (which, admittedly, isn't a huge surprise), and while I haven't seen his biases show in previous books they certainly do in this one, often for seemingly no reason.

View all my reviews
The Gendered Society review
Mood: relaxed
Posted on 2014-09-14 20:59:00
Tags: reviews books
Words: 166
The Gendered Society by Michael S. Kimmel
My rating: 5 of 5 stars

I got sent a copy of this book because it uses a version of my same-sex marriage map, so when I got it I flipped through to find it and then set it aside. David read through it and liked it a lot, so I decided to give it a read through, and it's really quite good!

The author's main points are:
- gender differences are quite exaggerated - there's much more variability inside a gender than between them. (think of two bell curves with slightly different means, or something like that)
- It sure seems like gender inequality is the cause of (and not a result of!) the differences between genders.

The book can be a bit depressing because people are terrible, but it's a good look at what gender means, and it opened my eyes into how much society constructs and enforces gender roles. And gender roles make me angry!

View all my reviews
Profit from the Core review
Mood: relaxed
Posted on 2014-09-08 14:32:00
Tags: reviews books
Words: 160
Profit from the Core: Growth Strategy in an Era of Turbulence by Chris Zook
My rating: 3 of 5 stars

This book was OKish. (I'd give it 2.5 stars if allowed to) The main thesis is that your business should figure out what it's good at and focus on that. When you want to expand, focus in adjacent markets where you can leverage what you're good at. The book is very down on diverse conglomerates.

Which is all fine and such, but the book itself was kind of dull and repetitive. Also, being written in 2001, it has some amusing bits:
- It quotes Mitt Romney! (the book was written by people at Bain)
- It isn't so sure how Amazon's move to sell other things than books is going to work.
- The best part was the few pages on how Enron(!) does so well! There's also a few positive mentions of WorldCom.

So...yeah. Grain of salt indeed!

View all my reviews
The Innovator's Dilemma review
Mood: relaxed
Posted on 2014-09-06 20:56:00
Tags: reviews books
Words: 389
The Innovator's Dilemma: The Revolutionary Book That Will Change the Way You Do Business by Clayton M. Christensen
My rating: 4 of 5 stars

This was a very engrossing book. I've started taking these business sorts of book with a grain of salt, but the book presents an interesting way of thinking that I'm pretty sure is right some of the time.

The basic idea is: established companies are great at coming up with "sustaining" innovations, which are innovations that improve on their existing technology. They are terrible at investing in "disruptive" innovations, which produce products that are worse than their existing products in ways that their customers care about, but better in a few that are crucial for customers they don't have yet. The example the book uses is disk drives in the 70s-80s - companies that made 14 inch drives were successful at increasing the density of those drives, but few/none made the jump to 8 inch drives. These 8 inch drives were more expensive per megabyte and smaller, but they were cheaper overall and more rugged, which their customers didn't care about but emerging products did.

This is combined with the trend that often technology improves faster than the market cares about, so eventually 8 inch drives caught up in capacity with what the existing market needed and soon after nobody bought 14 inch drives anymore.

The tricky part is that often established companies had the ability to make these disruptive innovations, but when they're being developed they generally have smaller margins since they're cheaper, so there's a strong incentive for companies to keep investing in the technologies they're familiar with and get higher margins. This works for a while until the disruptive innovation becomes good enough, and then the market collapses. Even if the company then tries to make the disruptive innovation, the companies that have been doing it for years are much better at it.

The author suggests that the only way established companies can successfully adopt a disruptive innovation is to basically let a group work on it that is guaranteed resources to continue their work and isolate them from the existing company, so the people can have the freedom to experiment without being pulled in to working on existing products.

Anyway, it's a fairly light read but very interesting!

View all my reviews
Windows Phone Developer News - Dev Center Benefits, Unity promotion, paying your "taxes"
Mood: relaxed
Posted on 2014-09-01 12:08:00
Tags: newsletter wpdev
Words: 32
I just sent out my first Windows Phone Developer News! Check it out: Windows Phone Developer News - Dev Center Benefits, Unity promotion, paying your "taxes" (you can also subscribe at that link)
a few random pictures from Austin and Houston
Mood: relaxed
Posted on 2014-06-20 20:52:00
Tags: pictures
Words: 108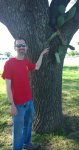 <- David pointing at a cactus in a tree! This was taken in the Austin airport's cell phone lot, which is surprisingly nice.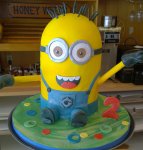 <- Another impressive cake from the folks at Rustika in Houston. We were there for cake tasting, which was of course tasty.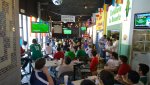 <- We ate at 100% Taquito while Mexico played Cameroon in the World Cup. It was tied at 0-0 when we got there, but soon after Mexico scored and the place went nuts! One guy ran out from the kitchen and waved the Mexican flag around for a bit :-)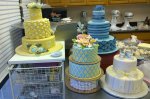 <- More nice looking cakes at The Pie Factory.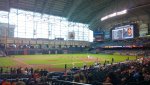 <- We went to an Astros game during Carrie's wedding shower. We had great seats close behind home plate! In fact, we sat two rows behind Arian Foster, who was a good sport about signing a lot of autographs throughout the game.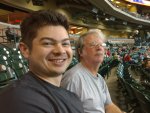 <- Chris and my dad at the Astros game.
a few pictures from the Gelato World Tour
Mood: relaxed
Posted on 2014-05-11 15:26:00
Tags: pictures
Words: 66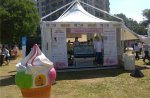 <- The Gelato World Tour came to Austin (its only US stop), and it was delicious! 16 gelato chefs competed with different flavors.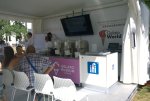 <- There were also gelato demonstrations and such. Apparently a key ingredient of gelato is air!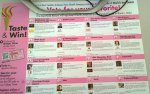 <- A list of all the flavors. I liked Maple Brown Butter Pecan the best (from a gelateria in Alaska!), although Bananas Foster was a close second.
Dixie Dude Ranch trip recap and pictures
Mood: relaxed
Posted on 2013-10-27 20:01:00
Tags: pictures travel
Words: 248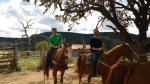 <- click for full album

We went to Dixie Dude Ranch for a long weekend and had a good time! Our room was nice:
(click pictures for full versions)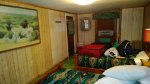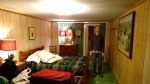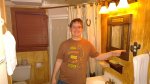 We arrived late Friday night. All of the meals were provided, but breakfast was at 8 AM every morning, so we slept in. Friday afternoon we rode horses for the first time: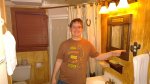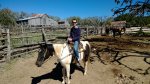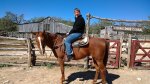 We also did a lot of reading. One of the places we hung out was the main lodge: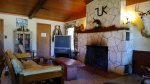 There were some trails to walk on, although they were longer than they looked. They also weren't marked terribly well so we got a little lost a few times.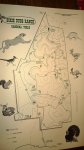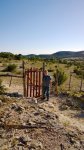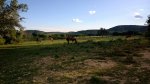 But mostly we hung around the ranch and did a lot of reading and such. There was no cell service on the ranch, although there was (slow) WiFi in the main lodge. After a day of adjusting to this, I found that my attention span got much longer, which was nice. We also played washers and horseshoes and such.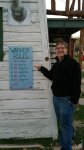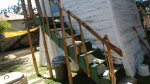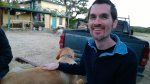 Sunday evening the ranch doesn't server dinner, so we went into Bandera for a bit of shopping and food.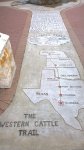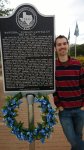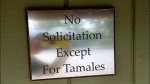 No other guests were staying Sunday night, so things got a little spooky. Luckily a few more people were around Monday and Tuesday before we left.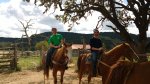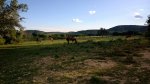 Anyway, it was a very relaxing vacation and the staff was very friendly. (they even started bringing breakfast to our room when we woke up!) If you're looking for a dude ranch type place I'd recommend it!

A few pictures from //build/
Mood: relaxed
Posted on 2013-07-04 14:37:00
Tags: pictures
Words: 39
I added a few pictures from //build/ to my gallery: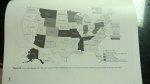 <- click here for the album!

Here are a few of my favorites: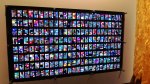 <- the Nokia wall of phones!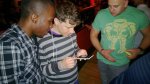 <- it's Miguel de Icaza!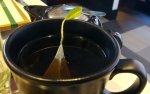 <- a tea bag that looks like a Pikmin!
links from India! Annotated State of the Union, naps, virtues, kangaroos
Mood: relaxed
Posted on 2013-02-15 14:44:00
Tags: links
Words: 210
It's my last day in India - had a great time, and boy am I not looking forward to another long day of travel. But, until then:

The Annotated 2013 State of the Union - may want to grab a cup of tea before reading; it's a bit long, but it's a very good read!

Relax! You'll Be More Productive - or Hey, Naps Are Good for You!

Ten Virtues for the Modern Age - billed as part of "A Manifesto For Atheists", but I don't see any reason these shouldn't apply to non-atheists as well.

xkcd: Workflow - aaaaa it's so true! I'm putting this up at my desk when I get back.

Why a Transaction Fee Matters to You - a financial transaction fee really does seem like a good idea. Hopefully the bill has some chance of passing?

There Was A Kangaroo Delay At The Australian Open - the picture really is worth 1000 words. (thanks Jessica!)

The Law and Order Database: All 20 Seasons - an interesting look at guilty/not-guilty rates over the seasons. Also: data!

Declassified: America's Secret Flying Saucer - it worked great until it got more than four feet off the ground. It does look cool, though!

Finally, a Valentine's Day appropriate article from the Onion: Romantic-Comedy Behavior Gets Real-Life Man Arrested
India, week 1
Mood: relaxed
Posted on 2013-02-10 17:54:00
Tags: pictures travel
Words: 1080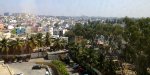 <- click for full album

Monday 2/4 evening

First day of work here! I had breakfast at the hotel and the owner came over and chatted with me a bit, which was neat. Then it was time to drive to work during what I can only hope was rush hour, because...wow. The office is less than 2 miles away and it took 20 minutes to get there and it seemed like we nearly got in 5 accidents. At tricky intersections you basically have to almost cause an accident to get anywhere. I was talking about this with people at work some - it sounds like it's mostly because Bangalore has grown so much in the past 7-10 years (there was very little SW industry here even in the 1990's) and the infrastructure hasn't scaled with it. Apparently the traffic is less crazy other places in India.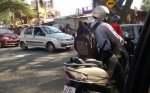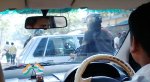 The NI office is nice - it's less than two floors of one building, but there are neat dance-related things on the walls, and the conference rooms are named after famous Indians, including Ramanujan! The power blipped out a few times during the day, but all the computers are on a UPS.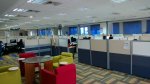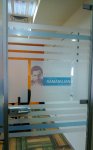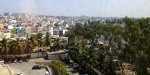 I had some problems with my work computer, but I did manage to get some work done. Unfortunately I haven't totally beaten jet lag and got pretty tired in the afternoon...

Now I'm back in the hotel room and in addition to the usual honking there's some seriously thumping bass that's been going on for an hour or so. Not sure what that's about. (Ed: I think there was a banquet going on downstairs or something. It stopped before I went to bed...)

Wednesday 2/6 evening

Yesterday was fairly boring: get up, have breakfast, nearly get in accidents on the way to work, do work, nearly get in accidents on the way to the hotel, eat, relax, sleep. I did give a talk at work which I think went decently, although I realized afterwards I omitted a key point. Oh well!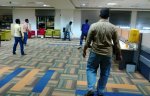 Today was mostly the same. After work, though, I walked to a nearby park. I've been planning to do that for a few days now, but my plan had been to wait until the traffic died down so crossing the street would be less scary. Of course, by the time that happened I would be tired and not excited about leaving the hotel. So, today I went out right after getting back. The traffic was heavy, but the only street I had to cross has a traffic light that is mostly obeyed, and I crossed with a crowd of people.

It took less than 10 minutes to get there (although I walked around three-quarters of it looking for the entrance), and it's a nice little park! I walked around it a bit and sat on a bench and read (on my phone Kindle, the best thing ever for reading on the go) for a bit. It's well-lit and there were lots of people walking and sitting down.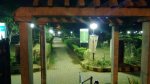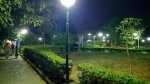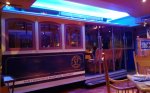 Today's random India topic: ever since I got here, everyone in the service industry (hotel, car, restaurant) has been extremely friendly, sometimes to the point of making me uncomfortable. The first time the driver met me at work to drive me back to the hotel, he took my backpack and carried it for me. All of the drivers I've had open the door for me when I enter and exit the car. The security guard at the hotel opens the door for me. After bringing me a bottle of water, the waiter at the restaurant pours some into my glass (and refreshes it when it gets low).

I'm not sure what to make of this. Is this a cultural thing? Am I getting special treatment because I'm American? (or, at least, clearly not Indian) I'd rather open my own car door, but I don't want to give offense and I'm new here and when in Rome, etc., etc.

Friday 2/8 late evening

Let's see: work over the last two days has been good. I feel pretty settled in now, and I was actually able to fix a bug this morning! (although the lag on remote desktop is somewhat painful) I gave a presentation today that went pretty well, and I had something that wasn't Pizza Hut for lunch. (ordered from a local Indian place, although it's possible I'm starting to get tired of Indian food...) Yesterday was their version of Snack Thursday, at which everyone had some Taco Bell.

Thursday evening I went out walking a different direction (south!) and almost had to turn back - I was waiting to cross the street to come back, but there was 0 chance I was going to do that at anything but a bonafide stoplight. Luckily I eventually encountered one and crossed, and my reward was eating at a KFC on the way. It was...well, a lot like American KFC's. Except the drink I got was tiny (which was fine!), and the menu seemed to have some vegetarian options.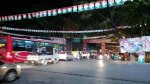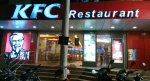 Tonight I went out with Rakesh and played some pool, then went out to a nice restaurant. To get to these places I rode on the back of Rakesh's motorcycle. I was a bit hesitant about this, but the places weren't far away and he gave me a smooth ride!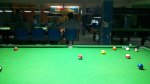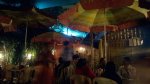 Random: there's a mosque near to work, so we hear the calls to prayer around lunchtime and early evening. The sound is quite beautiful - reminds me of music from Battlestar Galactica.

Random India topic: I happened to see the new version of the Big Mac Index...and look, India's at the very bottom! According to the index, things should be around 60% cheaper here, and that seems about right. Entrees at the hotel restaurant are around $4. I can get a Coke from the minibar in my room for $1. Tomorrow we're going to Mysore, and we're renting a taxi to drive us around all day for a total of $60. I guess the price of travel and difference in GDP can keep things this way, but it's still surprising.

Somewhat related: apparently it's not uncommon for bachelors to have a part-time cook service, where someone comes and delivers you home-cooked food every day. One person even has a full-time cook who lives at his apartment (although he does live with several other people), and the cook does laundry, cleaning, etc. I'm guessing this is related to the Big Mac Index...
Italy recap: Day 12 (bus tour, Bardini Gardens)
Mood: relaxed
Posted on 2012-10-13 18:33:00
Tags: pictures travel
Words: 200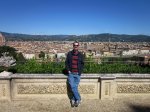 (click for more)

Thursday 9 PM
Our last (real) day in Italy! Today was beautiful with no rain, so we went on the bus tour. It was nice and relaxing and I took a bunch of pictures. [Ed: see above!] We also drove through Fiesole, a nearby older town of 15K people, and by the Soccer Museum, both of which would have been nice to visit. I'm not sure whether our guide books or ourselves were at fault, but we definitely picked out too many art museums and not enough other stuff. Oh well! Lesson learned.

In between bus tour we walked to the Bardini Gardens - unfortunately there were few flowers (this is not a good time of year for them) but it was still pretty and a nice change of pace.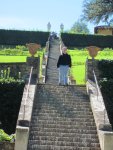 After a nap break, we went to our last Italian dinner where I had a bit too much wine. (which I'm shaking off now :-) ) Our last Italian gelato is later, which is sad, but I think we're both looking forward to being home. I plan on having plenty of caffeine tomorrow so I can stay up and go to bed on Austin time; we'll see how that goes!
recruiting trip, excitement to come!
Mood: relaxed
Posted on 2011-09-25 21:12:00
Tags: travel work
Words: 274
I just got back from recruiting at Penn State, and boy are my arms tired! Wait...that's not right. Anyway, I'm exhausted, and hopefully recording my itinerary will make me think twice next time I volunteer for a trip:

Tuesday:
- 2 PM: leave for airport. Realize flight is delayed and am probably going to miss connection in DC. Hang out at Austin airport for a good while.
- 11:30 PM: arrive in DC. Get hotel and taxi vouchers from United. Take taxi to hotel. Order 5:45 wakeup call.

Wednesday:
- 5:45 AM: wake up, be unhappy, go to airport
- 9:30 AM: arrive in State College
- 11 AM-4 PM: career fair day #1 (interns). 5 hours standing and most of that talking.
- 6 PM: Eat dinner, look at giant stack of resumes, drink beer, chat about NI.

Thursday:
- 9 AM: Wake up with throat dry and feet sore. (but glad for the extra sleep)
- 11 AM-4 PM: career fair day #2 (full-time). 5 more hours of standing and talking.
- 4 PM-7 PM: finish info session presentation, look at some resumes, order pizza & drinks for info session.
- 7 PM-10 PM: hold highly engaging, but long, info session.
- 10 PM-12:30 AM: finish looking at resumes, call people to set up interviews.

Friday:
- 7 AM: wake up with worse throat and feet. Curse the early hour.
- 8:30 AM-5 PM: survive interviews somehow
- etc.: drink beer, finish paperwork, collapse.

--

On the whole, I still enjoyed myself, and enjoy finding good candidates to work at NI. But, man, it's really tiring.

--

In unrelated news, I think two exciting things will happen this week, but don't want to jinx them. So, watch this space!
59 Seconds review
Mood: relaxed
Posted on 2011-08-19 23:30:00
Tags: reviews books
Words: 427
59 Seconds: Think a Little, Change a Lot by Richard Wiseman

My rating: 5 of 5 stars


59 Seconds is a self-help book with a twist - it talks about being happy, etc. but it does so based on a bunch of studies, kinda like Poor Economics. (liking these kinds of books is like liking science!) It covers a lot of different areas - here are the most interesting things I found:

- After experiencing a traumatic event, talking about it doesn't generally help, but writing about it does. (possibly because writing lets you organize your thoughts and create a narrative)

- As an exercise, writing down five things a day you're grateful for makes you a happier, more optimistic, and healthier person.

- Not exactly new news, but buying experiences makes you happier than buying things, possibly because looking back you tend to remember them fondly, as opposed to things which you get used to and decay over time.

- In children, low self-esteem tends to cause materialism.

- If you're presenting good news and bad news (or, in the case of lawyers, a strong argument and a weak argument), it's better to present the bad news before the good news.

- Favors are most effective (in affecting moods and establishing friendships) when they're small but thoughtful. If the favor is too big, it can create uncomfortable pressure to reciprocate.

- Convincing yourself to work on something for "just a few minutes" is a good technique for beating procrastination.

- Eating half a meal at normal speed and then slowing down to half speed can dramatically reduce your appetite, crazily enough!

- Having shrubs and trees around seems to reduce crime in an area. (yes, the study was properly controlled)

- Going on a date? Choose an activity that's exciting and causes your date's heart rate to rise, and he/she'll think it's because he/she likes you. (I believe this falls under the "slightly evil" category of tips)

- To make a complicated choice, it's best to think about it for a while and then switch to another mentally-intensive activity, like working on anagrams or something. Apparently this is a good way to get your subconscious to do your work for you!

- Praise children for trying hard, not for being smart, lest they get demotivated whenever they run into something tough.

- Putting a mirror in front of someone when presenting him/her with different food choices results in a 32% reduction in unhealthy food consumption.



Anyway, the book was good and dense, but I think I'm ready to move on from the self-help genre for a while.



View all my reviews
cordoba house, ricky gervais
Mood: relaxed
Posted on 2010-08-20 16:54:00
Tags: politics links
Words: 133
As Nate Silver pointed out, there are two ways to be "against" the Cordoba House (Islamic center near ground zero). If you think it's a bad idea, insensitive to 9/11 families, but that the government shouldn't step in, then I disagree with you but we can discuss it rationally. If you think the government should step in and stop it, then I would encourage you to read the First Amendment and get back to me. (if you call it the "Victory Mosque", then we're probably not on speaking terms to begin with)

Random videos: Ricky Gervais had this series Extras with famous people guest starring. Here is David Bowie embarrassing Gervais, Sir Ian McKellen teaching him the secrets of acting, and (mildly NSFW language) Patrick Stewart being creepy. Good for a Friday afternoon!
number of boxes left: 30ish?
Mood: relaxed
Posted on 2007-09-29 00:05:00
Tags: rant
Words: 537
We're making real progress here - furniture is set up, and we have most of the essentials (toiletries, a sleeping bag to sleep on the bed, computers, TiVo, etc.), but there are still lots of boxes to unpack. It is starting to feel more like home, though. Pictures will come (as will some sort of party) when the boxes are gone.

Allergies have been hitting me hard for the last few days. They come and go seemingly randomly throughout the day. Nose running is bad, although feeling sweaty all over is much worse. The dust with the boxes isn't helping, I'd imagine.

We used Bekins for the move. Our stuff got here Wednesday which was really fast, much faster than we had expected. (only a week after they packed and loaded it!) We lost a table lamp along the way, and an alarming number of mugs were broken. The boxes weren't in great shape - a few had been torn open and such, worse than normal wear and tear that I would expect. (and worse than on the move up there) The couch got a little scratched up (how did this happen when it was wrapped in tape?), the desks are a little more flimsy (the entertainment center, which we're getting rid of, borders on dangerous), and the washer was apparently resting on the washer hoses because they're both bent out of shape and don't seal. Maybe this is more in line with a "normal" experience...it's just that on the move up (with the same company), everything seemed in the same condition that we left it in. Oh well.

djedi shipped his car with Dependable Auto Shippers and arrived quickly, without scratches, and they were even washing it when we pulled up!

As I was driving around over the past few days, I saw the following billboard:
We think rush hour is a misleading term.
We think like you think. Time Warner Cable
Now, ads are dumb, but this seems to reach a whole new level of dumb. It took me a minute to realize the first line was unrelated to anything Time Warner. (is "rush hour" supposed to be some sort of internet thing?) But after that, I'm supposed to think of Time Warner as all buddy-buddy with me? Which cable company would you prefer to have a beer with?

The cable company is not a person. If they want to have an ad campaign saying they "focus on customer service" or they "embrace new technology", at least you can pretend that that idea started somewhere real and the marketing is just reflecting that. Or their ads could be based on their product, like "now with 33% more downloading speed than the leading internet provider!", and even if it's not true at least you can imagine that it might be true. I can't imagine anything - anything done for real that could cause this ad campaign to be true.

Looking at wethinklikeyouthink.com (what would a stupid ad campaign be with a stupid website?), the gist seems to be they have products that you might like. Or maybe there's a more subtle point, but I can't be bothered to take the time to watch all the stupid movies and demos.

pictures
Mood: relaxed
Posted on 2007-08-13 12:56:00
Tags: pictures
Words: 14

I put up pictures from Jessica's visit and a few from this weekend. Enjoy!

Mothers, lock up your hard drives
Mood: relaxed
Posted on 2007-06-29 10:31:00
Tags: computer
Words: 341

for I am their slayer. Yesterday morning I woke up, and after getting out of bed my first stop was my computer (as usual). Turned on the monitor and the screen was black and unresponsive to key-pressing. "That's odd," I thought, but sometimes two xscreensavers get running somehow and so it's slow to load the desktop. So I used the restroom, etc., came back and still nothing. Definitely bad. Couldn't switch to the console or ssh in, so I did an emergency sync, unmount and rebooted the computer. Everything seemed fine after that, and I didn't think much of it. (mistake #1)

When I got home from work it became immediately clear that things were not fine, as KDE was partially dead. I tried to vi /var/log/syslog and it said vi: command not found. Oh, this is bad. I couldn't even shutdown because it couldn't find that either. Switching to the console and trying to log in led to a string of I/O errors on /dev/hdc. Aha!

Next step was booting into a Knoppix CD I had lying around, which has saved my butt numerous times. It booted fine, of course, but then didn't find /dev/hdc at all. (/dev/hdc is my 320 GB I bought last year that has all my stuff except for music on it, so this is scary) I take a deep breath, shut it down, open up the case, clean out dust and check the connectors and such, reboot into Knoppix and presto, /dev/hdc is back! I rebooted into my real system and everything seemed fine after playing WoW, etc.

I went ahead and bought a new hard drive (after some persuasion from djedi) because if it's dying, it's dying (and there were definitely I/O errors on it before), so I have a new shiny 320GB SATA drive that I get to try to make my kernel work with. Hopefully I'll copy over data (takes foooorever) this weekend sometime.

I should add I'm a little irritated a hard drive I bought 15 months ago is dying already.

feelin' breezy
Mood: relaxed
Posted on 2006-09-06 15:44:00
Words: 529

So things have been going relatively well up here in Maryland (motto: "manly deeds, womanly words") - there are just a few boxes left around and the place finally feels like a "real" apartment. Which means I need to take pictures soon!

I've really been enjoying the weather up here - it's been cool, although somewhat rainy (which is novel!), so we've ended up walking around town some, even if only across the street to the mall. We made another trip to Baltimore today to see the National Aquarium in Baltimore (which we had planned to see on Sunday, but didn't because it was ridiculously crowded what with Labor Day weekend and all) - I'm not a big fan of zoos and aquariums in general, but it was quite impressive. Got some good pictures too that will go up at some point :-) Anyway, by the time we got done it was 3 PM, so we just headed back home for a relaxing afternoon/evening, which I'm now having! Before Baltimore we went to the National Cryptologic Museum which was very impressive as well - lots of important stuff there. There was even an Enigma machine you could use! They also had on display some of the computers the NSA used to use, including one that went into service in 1993 and had 64GB of RAM, which impressed me! (also impressive was the fact that it went out of service in 2000 but has apparently been declassified, which sort of makes sense: not a huge secret that the NSA has fast computers...)

Anyway, I'm really getting used to this whole not working during the day thing just in time for it to run out. But we did get most of the apartment setting up stuff done - the only major things are driver's license and license plates, which we might be able to squeeze in on Friday but we'll see.

Columbia's also starting to feel a little more like home - I know the layout of the town center decently and I'm fairly comfortable with the highways around here, and have found a few shortcuts that shave time off of trips :-)

I do miss human contact, though (other than djedi of course! It's been nice spending a lot of time with him) - the idea that we could just call people up and have them over/go out with them is sorely not available to us. There's a Games Club of Maryland that has a game night in Columbia Friday night - I'm making myself and djedi go to try to meet people. And starting work will help, too, but I'm trying to cast my net as widely as I can.

Ooh, pest control is here! Maybe our ant problem will disappear (although it's gotten a bit better in the last few days)

With some of my spare time, I wrote a little web app to query my Auctioneer data so you can find out approximate prices when you're not in WoW. I'm not ready to officially announce it yet (because it doesn't work in IE for some stupid reason...grrr IE), but if you're interested let me know and I'll send you a link :-)

Hope everyone's having a nice week!

special home-for-the-holidays post!
Mood: relaxed
Posted on 2005-12-22 20:35:00
Tags: links
Words: 168

I'm home for the holidays! That's nice. Houston is...about the same as Austin. Since my last two trips to Houston involved hitting a deer on the way home and calling 911, I'm hoping nothing totally crazy and out of the ordinary happens this trip. Doing well so far.

I'm liking mochas more and more the more I drink them. This may be a bad thing.

Brokeback Mountain - very good. Someone (Heath Ledger?) should win an Oscar for this. Also very, very sad. You can read the original short story, if you'd like. The movie is pretty darn true to it. Also, the "straight dude's guide to Brokeback Mountain" may come in handy. *shrug*

Just a note in case y'all don't have news as a friend, free users can now have 6 userpics. Enjoy!

Hope everyone has a happy holidays (hate me, Bill O'Reilly!) and I'm looking forward to seeing a bunch of y'all at New Year's! :-)

Oh, and I'm getting close to level 3 on Yahoo! Answers. Woohoo!

last days of trip
Mood: relaxed
Posted on 2005-06-06 20:29:00
Tags: disneyworld
Words: 524

Wow, nice to be typing on a real computer again! Neat.


So, we got up early Saturday morning to head to the Magic Kingdom. We got to the park just about as it opened (9AM), and immediately headed to Tomorrowland and rode Space Mountain (there was like no wait!). It was pretty good - I had been in Disneyland, but this seemed more intense (and I later found out that it has been redone somewhat recently). After that we checked out "Buzz Lightyear's Space Ranger Spin", which was less of a ride and more of a moving shooting gallery - there were two people to a car and you had a laser gun to shoot targets. And you can spin your car around, which is always neat. Then we did "Stitch's Great Escape" which had us sitting in a theater while various things were done to us (spraying water and foul-smelling something), and rode the tea cups.

We then rode Big Thunder Mountain Railroad and Splash Mountain (although I passed on that one), then went to the Hall of Presidents. Animatronic people are creepy, and nothing was more creepy than the animatronic George W. Bush talking about freedom and equality (and listing a bunch of non-discrimination things for gender, race, etc., while obviously not listing sexual orientation...) - you could cut the irony with a knife. Did the Haunted Mansion, then had lunch (BBQ pork sandwich - mmm!), then rode "it's a small world" (which has also been redone), which did not drive me crazy. Did Pirates of the Caribbean and walked through the Swiss Family Tree House, David got a nice looking necklace (picture to come!) and then we were about done for the day. Headed back to the hotel (we were pretty exhausted by this point), relaxed for a bit, then went out to IHOP for dinner (someone was craving waffles or something), then we went back to Magic Kingdom for the fireworks show. The show was very impressive - there was a voice-over by Jiminy Cricket that had lots of Disney soundtrack music in the background, and a fair number of the fireworks were synchronized with either the music or the talking. I got some pictures of these too :-)

After that, back to the hotel for packing, then to bed! For we got up at 5:30 Sunday morning, and left the hotel parking lot at 6:11 - 4 minutes ahead of schedule! (woohoo!) Due to the fact that we were up very early and the timechange, we had lunch at 10:30 local time, which was kinda weird. Anyway, drive drive drive drive drive, and we arrived in Houston (at abstractseaweed's place) just after 11 PM, exhausted. We got up this morning at 6:30 or something and drove back to Austin, and I took a nap, had lunch, and went in to work.

All told (from Austin back to Austin), we went just under 2500 miles on the trip. I haven't crunched the numbers yet, but I think we averaged around 45 MPG for the trip.


Sorry that was kinda dry - I have some more substantial thoughts about the trip and stuff that I'll post tomorrow, probably.

*yawn*

hah!
Mood: relaxed
Music: "CSI" theme music
Posted on 2005-03-11 22:13:00
Words: 73

So I'm here at home (in Houston), watching TV, and we saw a commercial for a sermon at a Baptist church about the "se7en" deadly sins. I'm not sure what they were going for, because they showed a lot of freeways - are those sinful somehow? I must have missed that...Anyway, that was weird enough, but right after that was a quick screen advertising Girls Gone Wild. Hah!

Hope people have a good weekend!

Super Bowl + whatnot
Mood: relaxed
Music: Eminem - "Mosh"
Posted on 2005-02-07 11:00:00
Words: 116

So the Super Bowl was pretty exciting, although the Eagles need to learn how to play a hurry-up offense (Hint: when you need two scores with 5 or so minutes left, you should be in a no huddle offense. Also, if you need a field goal, and you're at your own 5 yard line with 30 seconds left, do NOT throw to the middle of the field! The best thing that can happen is that the pass is dropped...) I ate too much, as expected, and so didn't have a great day at Weight Watchers today. But, hey, it happens...

Blah - I thought I had something to say, but I guess I don't, really. Oh well...

This backup was done by LJBackup.