Posts with mood bouncy (16)
A close shave
Mood: bouncy
Posted on 2010-03-10 13:32:00
Tags: health palmpre projects house
Words: 728
Yesterday, we were driving home from work as usual on the onramp to North Mopac just south of Duval when the car in front of me started slowing down and then came to a complete stop. On the onramp.

Luckily, I was watching and was able to stop in time. Even more luckily, the car behind me was barely able to stop in time as well. (David says he could hear them slam on their brakes, but I was focused on stuff in front of me) Then the crazy honking began, both from the car behind me and me, and the car pulled off into the shoulder. I'm guessing they stopped because the sun was just at the right angle so that you couldn't see anything in the side view mirror, which made getting on the freeway from a dead stop rather challenging. Luckily no one hit me.

I was pretty amped up from this and my heart was definitely beating faster than normal. Unfortunately, this continued for quite a while. Apparently reflux can present this way, and taking some antacids seemed to help for a while, but it made me jumpy all evening and made it hard to sleep...

I worked on a new WebOS app last night - this one's a quick interface to BoardGameGeek. To submit it, I had to make the decision again about where to put it. To review:
- To put it on the App Catalog costs $50 (one time fee)
- Not doing that is free, but then it's a lot harder to find without a direct link
I prefer putting my apps on the App Catalog for the widest exposure, but then I feel like I have to charge something to make my $50 back. (and it's not that I really begrudge the $50, I understand it takes Palm time to review the apps, etc.) So I did that and am charging .99, the lowest allowable. We'll see what happens1

Good lost episode last night: At this point my favorite episodes are Locke, Ben, and Sawyer ones. Michael Emerson (actor who plays Ben) is amazing and really sold me on the whole Machiavellian teacher bit. Lots of sweetness when he says "Because no one else will have me" and Ilana replies "I'll have you". Awww!

The excessive "winking" at the audience is getting to be a bit much. I'm fine with Hurley acting as a fan of the show and asking a question about something every once and a while, but asking if Richard was a cyborg seemed kinda silly.

A Lost encyclopedia is coming out in August! I know it makes sense to release it after the end of the show since then it can be "complete", but it would have been helpful earlier. Still, I'll probably pick it up.

Random note: Like Greek food? Try Pars Deli at the corner of 183 and Burnet. Delicious gyros, and it's clearly a family run place. They left the door open today and it was soooo nice :-)

House stuff: We had solar screens installed by Josh Hobbs a few weeks ago. The process was pretty easy (we didn't have to be there any of the time), the prices were reasonable and the screens look nice. (need to take a picture at some point) Haven't really been able to measure their effectiveness yet, but it's definitely darker, so presumably that will keep out heat too.

Next week we're getting a high efficiency A/C unit put in, as well as making it "multi-zone" so we can control the upstairs and downstairs temperature independently. After crunching the numbers it's not going to quite pay for itself in reduced electricity bills, but it will get pretty close and we get a new unit out of the deal. (we spend a fortune on cooling in the summer!) The $1500 tax credit helps, and Austin Energy has some nice rebates too.

Bought the Heavy Rain soundtrack from iTunes. (yay for DRM-free music!) I might try to transcribe the really pretty piano music (Painful Memories), if I feel inspired enough.

Final Fantasy 13 was bought and played yesterday. Even after just playing Heavy Rain, whose visuals were pretty impressive, it looks fantastic - definitely using the PS3 to its full potential. Also, does anyone know if the characters have such ridiculous names in Japanese too, or is that just a translation thing?
thanksgiving pictures
Mood: bouncy
Posted on 2009-12-07 18:02:00
Tags: pictures
Words: 4
can be found here: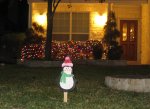 Curious about Roman Polanski
Mood: bouncy
Posted on 2009-10-08 10:50:00
Tags: poll
Words: 90
So, if you haven't heard, Roman Polanski was arrested in Switzerland two weeks ago. In response, some prominent filmmakers including Martin Scorsese and Woody Allen have signed a petition asking for his release. So, I'm curious:

My thoughts behind the cut:

I pretty much don't understand why this is an issue. He was tried and convicted of a pretty heinous crime and fled the country. Yeah, it was a long time ago, but sending the message that disappearing for a few decades = forgiveness of punishment seems pretty crappy to me.

friday link friday
Mood: bouncy
Posted on 2008-12-05 13:34:00
Tags: links
Words: 179
And now, a special Friday installment of Link Friday!

interesting things
Mood: bouncy
Posted on 2008-09-17 15:06:00
Tags: video games football politics links
Words: 330
I have a list of tabs open in Firefox mentally filed under "to post about" but I'm only really interested in about half of them - this half!

- GM reveals Chevy Volt design
The Chevy Volt is a plug-in hybrid car that scheduled to be released in 2010/2011. This is a car I could see buying (hopefully I won't need a new car by then!) - it goes 40 miles solely on charge alone, and after that there is a gasoline motor but it's just used to charge the electric battery, not for propelling the wheels (like the Prius does). Downsides - it's going to be expensive ($40Kish?) and only hold four people. Apparently the battery pack takes up room where the middle back seat would be. I've been keeping my eye on this - it would be nice for an America car company to take the lead in green technology for once, and plug-in hybrids are cool!

- Familiar Ground May Be Election's Deciding Factor
Right now, it looks like Obama's easiest path to victory is Kerry states + Iowa, New Mexico, and Colorado, which is very doable. fivethirtyeight.com's numbers are favoring McCain now but I'm confident they'll swing back the other direction.

- Federal bank insurance fund dwindling
I don't claim to understand what the hell is going on, but our financial system seems to be going to hell and it's kinda scary. The subprime crisis has the classic hallmarks of a Black Swan in that apparently few thought it was possible, and the amount of money that's been lost is pretty staggering. If there's one thing I learned from "The Black Swan" by Nassim Nicholas Taleb
, it's that things are more uncertain in Extremistan than we think...

In NCAA 09 news, the U of H Cougars lost to Florida in the Fiesta Bowl 14-6 (sooo close to tying it up at the end...) but finished the season #10 in the nation, and had a good recruiting season. We're about to start season #2!
linxplosion
Mood: bouncy
Music: Death Cabie for Cutie - "Long Division"
Posted on 2008-07-16 15:22:00
Tags: politics links
Words: 105
Lots of links for no reason!

- Sean Tevis is running for Kansas State Representative, xkcd style. Help him out! (I'm #384 or so to give)
- Rock Band 2 tracklist - you can also use songs you've downloaded and "most" of the ones off the first Rock Band.
- President Bush: "Goodbye from the world's biggest polluter". Kind of a jerky way to end a meeting.
- Super rich tax cheats outed by Liechtensteiner bank clerk
- Division Emerges Among Foes of California Same-Sex Marriages - if Prop 8 passes I will be extremely sad and angry.
- John McCain is against gay adoption. Sort of.
- Your guide to the Wall-E controversy.
moved in, such as it is
Mood: bouncy
Music: "Lost" music
Posted on 2008-03-16 16:32:00
Tags: moving
Words: 342

8:30 AM - we get up, quickly move the computers electronics down to the cars so the movers don't take them.

9 AM - Movers are scheduled to arrive. No movers appear, so we take care of taking things down from the walls, etc.

10 AM - Still no movers. djedi calls, and the truck they sent has a flat tire, but they're just fixing it now. Should be another half an hour to an hour. We clean the bathrooms, etc.

11 AM - Big surprise, no movers. We're about out of things to do so I take my car with stuff over to the house, unload it, stop by Lowe's for some spackle and grab some drinks at Sonic.

11:45 PM - Alas, no movers. I take more stuff to the house and grab Chick-Fil-A for lunch on the way back.

12:30 PM - I call the movers and am like "what's up, fools?" The supervisor is very apologetic and says the first truck had a flat tire and then "personnel issues", whatever that means. They're sending a second truck soon and offer us a 20% discount if we want to move tomorrow (we have dinner plans so as long as we can finish before then we'd rather do it today) or a 10% discount today. I take yet another load to the house.

2 PM - The movers arrive! (it's a different crew, they came in on their day off) They start loading stuff into the truck while djedi and I mostly sit around since we're pretty much done with everything, which really isn't so bad.

4 PM - Done loading stuff, we head over to the house.

5 PM - The movers finish unloading the last of our stuff. Yay!

So after all was said and done, it was all fine. We had dinner with djedi's brother and wife and friends, set up the living room, unpacked some odds and ends. Today we hooked up the washer and dryer before djedi left for Houston. Now I'm watching Lost online, although I'm kinda lonely here in the big house.
i dunno, stuff and such
Mood: bouncy
Posted on 2007-11-27 13:17:00
Tags: music house worldofwarcraft
Words: 433
Busy week! Last night was a WoW raid (more on that below), tonight is game night, Wed. is a church thing and Thurs. I'm probably going on a Rice recruiting dinner thing.

The past weekend at home was nice, albeit a bit busy. And I could have done without the rain. We did manage to assemble a new grill for my dad. I'm getting a little tired of the drive to Houston - if you count the renaissance festival last weekend (you drive all the way to Brenham and then some more) and if I drive on Thursday that will be 3 trips back and forth to/from Houston in less than three weeks. Oh well.

We're going to look at houses on Saturday! Exciting stuff.

I finally broke down and bought the Beach Boys's (that's the correct punctuation, right grammar folks?) album "Pet Sounds". (I say "broke down" because we have very few magazines in our bathroom and the one that's always open is mental_floss and it's always open to the article about Masterpiece #98, which is that album) I bought it from the Amazon MP3 store which I'm starting to love for convenience and pricing. ($8 for the whole album!) Anyway, it has some catchy songs but overall I'm not as impressed...maybe my expectations were high after reading it was #2 on Rolling Stone's top 500 albums of all time. It's growing on me a little as I listen, but not as much as I would have hoped. Also, I have 0 of the top 25 albums on that list (well, except for "Pet Sounds" now). Shameful? Maybe.

So the last (and first) time we went to Zul'Aman, we had to take a PuG offtank, and so we wiped many times on Nalorrak (the bear boss), and finally downed him after like 3 hours. Since we had our real offtank last night, we thought we'd try to do it in 20 minutes. (for "extra" loot, meaning two pieces instead of one) We engaged him within 20 minutes, barely, but apparently you have to kill him within 20 minutes to get the loot...since it takes us 8 minutes to kill him, that will be difficult.

Anyway, we went ahead and tried Halazzi (the lynx boss). We wiped probably 20+ times trying it...we did make some progress, getting him to 70% once, but no better. Pretty frustrating, all in all. We discussed some strategies at lunch (wings!) that will probably help, but we might just try Akil'zon (the eagle boss) instead, whom we thought we were headed towards last night. He's supposed to be easier.
arena rating graph
Mood: bouncy
Posted on 2007-11-09 14:51:00
Tags: netflixprize math projects worldofwarcraft
Words: 234
Went out to lunch today with WoW people and we talked about this neat idea for an Arena rating graph. So you start at a 1500 rating and every match you play you gain or lose 1-29 points, and it would be neat to see the progression of that as the season goes on. Also nice to see what composition of teams we're good against and which we're not, and the ratings of the teams we win or lose to. I'm having to try really hard not to just start writing down ideas here since it's not work-related :-)

My first thought was to do the graph in Flex, but I forgot that Flex Charting is a separate package that costs money. So I did some research and there are lots of options for this sort of thing (found this excellent article on interactive charts and graphs via del.icio.us). AmCharts looks like the best option, with FusionCharts Free close behind. I'll have to download and try them out at home; of course the hard part will be figuring out how to display all that data in a useful way.

Here's an excellent article on how Simon Fink's team got into the top 10 for the Netflix Prize - lots of juicy juicy math. Makes me want to get back into that sort of thing, which would make three active projects at once, which is too much.
it all seems more real now
Mood: bouncy
Posted on 2007-08-21 17:16:00
Words: 10
I told my coworkers I'm leaving. It went pretty well.
A Tale of Two Stories
Mood: bouncy
Posted on 2007-05-24 09:22:00
Tags: car story computer
Words: 858
1 - djedi and I were driving home when I heard a noise coming from under the car that quickly got louder. It sounded like something had fallen under the car and we were dragging it along or something. We were slowing down anyway so djedi poked his head out the door to see that the right front tire was quite flat. I pulled over to the side and we got out. Luckily we were less than a mile from home by this point, so regardless we could walk home or whatever. Anyway, djedi gets out the mini compressor that was a present from djedi's family (thanks!) and starts pumping air into it. After like 5 minutes of this, it's pretty clear it's not filling up, and I find a reasonably sized hole in the side. (I tried applying pressure with my finger while it was filling up, but that didn't seem to help)

So, djedi looks in the trunk and finds no spare tire. Ack! So I call AAA (the fact that I have a membership gives me great peace of mind, as I'm not so good with cars), and after they transfer me to the Maryland office (I hadn't changed my address...) she sends a tow truck out. Luckily we remember there's a Firestone just down the road, and they're only open until 7 (it's around 6:40 by now) but I can drop the car off out front.

While we're waiting, we both think it's awfully odd that the car, which definitely came with a spare tire, doesn't have one now, despite the fact that I've never used it or anything, so we go back to the trunk to check. Turns out all the storage is done origami-style - so you fold up some stuff to get to the jack and stuff, but then if you fold it up again there is a spare tire! Whoops. I read the instructions while djedi changes out the tire, which goes pretty smoothly. Just around the time we finish I see a tow truck driving the other way that honks as it goes by, and sure enough it turns around and stops. I explain to the friendly driver that we did in fact have a spare and so we could drive it ourselves :-)

Anyway, djedi walks home to start dinner and I carefully drive over to the Firestone. It's already 7:10 but they're still around finishing up, so I watch some "Jeopardy!" while I wait and finally tell them the situation, drop off the key and jog home. I don't like jogging, but this wasn't a long way and it was really a beautiful day out so I didn't mind.

Afterword: Since the hole was in the side of the tire, I'm getting four new tires. I needed an oil change anyway, so this works out decently. (and I'm not getting a Firestone charge card despite getting halfway through the application before realizing what the guy was trying to sell me...)


2 - Ever since I got my new computer a year and a halfish ago, it's been slow. Not for doing big computations, but for switching between screens, starting up Firefox, etc. World of Warcraft is particularly bad, as I've noticed a couple of times that when I switch away and from it, it's very slow and jerky, and loading new zones takes fooooorever. This made me kinda unhappy, but I had mostly learned to live with it. A few days ago I was rereading Linux Server Hacks and I got to the tip about using hdparm. Now I had set this up a long time ago but it suddenly occurred to me that maybe it wasn't working, and this was why things were so slow!

I went to my computer and did the timing tests with hdparm -tT /dev/hdc. The "Timing buffered disk reads" came back with 1.67 MB/sec, which even my years-old book says was laughably low. Encouraging! So I tried turning on lots of stuff with hdparm -d1 -u1 -X66 -c3 -m16 /dev/hdc. Unfortunately, it said that turning on DMA was "not supported", but everything else was turned on, and that got the speed up to around 3 MB/sec. (it turns out the old hdparm settings weren't working because my hard drive had changed from /dev/hda to /dev/hdc)

Not bad! But I wondered why I couldn't turn DMA on, as that would in general help the most. So after doing a little research I discovered the problem was that support for the IDE controller wasn't built in to the kernel. I decided to go ahead and download a new kernel anyway and (after eventually finding the right option) turned on the IDE controller supported. After installing it, I was indeed able to turn DMA on, and now the speed is anywhere between 30 to 60 MB/sec! I had to recompile a couple of times to get my sound and iptables filtering working again (I think the options changed between kernels), but I finally got it all up last night. My system is noticeably more responsive, and loading WoW screams (at least comparatively).

This makes me a happy panda!
linky linky
Mood: bouncy
Posted on 2007-04-09 14:56:00
Tags: links
Words: 71
The Washington Post convinced violin virtuoso Joshua Bell to pretend to be a street musician and play outside a Metro station. Great experiment! (via kottke)

Pat Venditte is a switch pitcher, the only one in Division I baseball! (via kottke)

13 TV Shows That Should Never Have Been Cancelled - it includes Firefly and Arrested Development, so it gets a thumbs up from me. (via digg)

Alberto Gonzales deathwatch - up to 86%!
friday links
Mood: bouncy
Posted on 2007-03-02 14:20:00
Tags: links
Words: 76
It's a beautiful day outside - temperatures were in the 60s when I went out to get lunch! There's still a tiny bit of ice on the ground but it's by and large gone. Spring is coming!

The Boring Store (not a secret agent supply store) (via kottke)

This one's for tehfanboi's Boston rant - Boston Police Blow Up Suspicious Looking Man (no, not really)

Swiss Accidentally Invade Liechtenstein - yes, that's in the New York Times. (via daringfireball)
jazzed
Mood: bouncy
Posted on 2006-09-30 23:28:00
Words: 65
So I went to the game night thing I mentioned earlier - long story short, it was great. I played Munchkin with people who had never played before, and all of whom were relatively close to my age, and geeky, and friendly! Won't be there next Saturday because djedi's parents will be around, but I'm hoping we can make it at least the week after. Woohoo!
a buncha random thoughts
Mood: bouncy
Music: nothing right now!
Posted on 2005-04-11 14:16:00
Words: 295
Too bad I like my Prius so much!

This video made by Hitachi is, bar none, the oddest Flash animation I've seen about hard drive technology.

When I was in college, I loved tinkering my computer, having things (in
software!) break and then fixing them. Now I'm distinctly of two minds:

- I still for the most part like getting neat stuff to work - for
example, I'm currently working on burning DVDs from TV shows downloaded
from the TiVo. This is cool stuff.

- I don't like making stuff that worked before already work. I don't
upgrade my Debian packages regularly because of this - invariably
something breaks, and I have to spend time to get stuff working the way
it was before. I don't have a lot of patience for this these days...

I took the Religion test earlier, but I took it again, and here are my results (which changed a little!)

1. Orthodox Quaker (100%)
2. Mainline - Conservative Christian Protestant (97%)
3. Eastern Orthodox (96%)
4. Roman Catholic (96%)
5. Mainline - Liberal Christian Protestants (91%)
6. Seventh Day Adventist (90%)
7. Liberal Quakers (67%)
8. Unitarian Universalism (64%)
9. Church of Jesus Christ of Latter-Day Saints (Mormons) (61%)
10. Orthodox Judaism (54%)
11. Reform Judaism (54%)
12. Sikhism (51%)
13. Islam (46%)
14. Hinduism (45%)
15. Neo-Pagan (43%)
16. Bahá'í Faith (39%)
17. Christian Science (Church of Christ, Scientist) (39%)
18. Jehovah's Witness (39%)
19. Secular Humanism (39%)
20. New Age (33%)
21. New Thought (32%)
22. Taoism (32%)
23. Theravada Buddhism (30%)
24. Scientology (29%)
25. Mahayana Buddhism (27%)
26. Non-theist (25%)
27. Jainism (19%)

These results seem a little fishy to me. I'm more Orthodox Quaker than Liberal Quaker? I think I might have been picking the Catholic answers on purpose. Oh well...

my relationship type
Mood: bouncy
Music: Vertical Horizon, "I'm Still Here"
Posted on 2005-01-12 11:09:00
Words: 304
According to Jenny Turpish Slapped Me (huh?). As seen on quijax's page.


eXpressive: 6/10
Practical: 7/10
Physical: 3/10
Giver: 6/10

You are a XPIG--Expressive Practical Intellectual Giver. This makes you a Catch.

You are a magazine-cover, matinee idol dreamboat. Parents love you and want to set you up with their kids. However, first dates are tough because it takes time for your qualities to come out.

You are generous and kind. You think first and act later. You are cool in a conflict, but your practical side means if your partner throws out emotional appeals ("why can't we do what I want for a change?") they will grate on your nerves, even when the conflict is resolved.

You're a romantic. You enjoy the thrill of the hunt, and you don't just fall into bed with anyone. You pay close attention to your significant other's needs, and this makes you an excellent lover and partner. The problem is that your friends and lovers may find it so easy to express things to *you* that they lose sight of whether you feel as comfortable with *them*! This doesn't necessarily make you feel under-appreciated -- you're too well-adjusted and self-aware for that -- but you may feel restless. Thus you seek adventure in your life outside the relationship to prove and actualize yourself.

Of all the types, you would make the best parent.

You are coiffed.

Didja see "Big Fish"? 'Cause you're like Ewan MacGregor in "Big Fish."

Of the 176050 people who have taken this quiz, 9.3 % are this type.

I wouldn't say I'm a dreamboat, but the description sounds reasonable. What's
"coiffed"? I dunno about the whole parenting thing. And I haven't seen "Big Fish"...

Quizzes like this appeal to my mathematical side (it's just a 20-dimensional vector space!), but are of questionable utility. Fun, though!
This backup was done by LJBackup.