Palm developer session
Mood: happy
Posted on 2011-05-03 11:12:00
Tags: pictures palm travel
Words: 399
I just got back from a Palm developer session and had a blast! Details below...

Pictures from the trip and from Easter are here: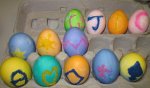 I arrived Wednesday night late and took a cab to the hotel (the Best Western Silicon Valley) which was a little plain but comfortable enough. Except they had a coffee maker in the room with no tea bags! Should have brought along my own like David suggested...

The hotel was under a mile from Palm HQ, so the next morning I packed up my laptop (which has since died - thank goodness it survived the trip!) and walked. The morning was a few sessions and the afternoon was just a time to work on your app with a bunch of Palm people around and available to help. Oh, and I got to play with a TouchPad, which (I believe this is all I can say) is awesome!

As with last year I forced myself to be sociable and was pretty successful - met a few folks I had only chatted with online and some other fellow developers. Going from the outside world to a place where everyone is excited about webOS feels like culture shock, and there's a real sense of camaraderie among we developers.

Thursday afternoon and Friday was all coding time, so I got a lot of stuff done. I also learned about censored, and I might be censored and censored!

Saturday I decided to find a better way back to the airport, which meant walking 1.3 miles (with luggage) to the Sunnyvale Caltrain station. Had some extra time so I walked around the Sunnyvale farmer's market and bought a book (since the trip cost to the airport was $4.50 vs. $40 for the cab, I felt I had earned it!) I stopped in two shops and both people asked about my Scottish Rite shirt, leading me to conclude that residents of Sunnyvale (Sunnyvalians?) are big fans of children's theatre!

Made it to the airport way early and walked around a lot. The airport is big, but my reward was a neat gizmo-like machine at the end of Terminal A: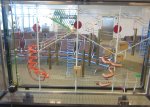 Also got a blueberry muffin (at Pai's recommendation) and finally got to try airport sushi, which was actually in this case quite good! I also stopped in a store, idly looking for headphones, which ranged in price from $15 to (I kid you not) $500!
---
1 comment
Comment from anonymous:
2011-05-05T10:21:59+00:00
[url=http://www.forex-trading-advise.info/forum/showthread.php?p=5231#post5231]buy declomycin online[/url]
cheap declomycin
declomycin
cheap declomycin

[url=http://posterous.com/people/1lxkJABKSGuB ]cialis dosage[/url]
This backup was done by LJBackup.