Palm Developer Day trip: Day 2
Mood: happy
Posted on 2010-04-27 21:48:00
Tags: pictures palm travel
Words: 470
I woke up excited and nervous about interacting with people. After getting ready and seeing a few fellow attendees eating breakfast downstairs, I got in the hotel limo with two other people to go to Palm HQ. Chatted with them a bit about the kind of stuff they worked on. When we arrived Palm had breakfast available in their cafe - I grabbed some fruit and sat down with some people and joined their conversation. (Hooray for being somewhat sociable!) Even got one guy interested in FlightPredictor (coming very very soon!)

The keynote started at 9 and talked about a new things coming to WebOS in the fall timeframe - access to the microphone and camera, better file I/O access (yay!), a new database system, etc. After that the company store was open (all items 30% off!) so I got a nice Moleskine notebook with the Palm logo and a new headset. The rest of the day was a blur of sessions - interestingly they had both hour long and 30 minute sessions, but generally the hour long ones were good and the 30 minute ones were less so. I was proud of myself for asking a few questions and going to the Apps Lab to report a bug which we spent 20 minutes examining. Later I got a picture taken with my app (link coming soon!)

After all the sessions were done, Palm had an offsite mixer with free beer and food, so I took the shuttle they provided there. I was feeling pretty socialized out, though, so I joined a group talking with a Palm guy for a bit, got a beer and food from the buffet and then sat alone, thinking someone might join me, and they might not. As it turned out, no one did, and after a while I pulled out my book and read for a while, then just felt like going home.

This was a little tricky logistically - one option was to wait for the Palm shuttle to take me back to Palm and then call the hotel and wait for them, but I wasn't sure if the Palm shuttle was even running since I was leaving so early. The other option was to walk the 3.1 miles back to the hotel, which I decided to do. It worked out OK, but it was a long walk and I took a few wrong turns. Hooray for Google Maps with walking directions on my Palm Pre, though!

When I finally made it back to the hotel, I collapsed for a bit, then ordered a dessert as a reward, and prepared my plan for the next day. My flight wasn't until 5:50 PM so I was planning on taking the Caltrain to San Jose to explore the city...

Here are the pictures (more being posted as I type!):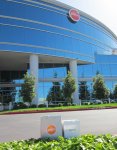 ---
This backup was done by LJBackup.