Rochester pictures, Obama's health care speech
Mood: resigned
Posted on 2009-09-10 10:26:00
Tags: pictures politics
Words: 117
Finally put pictures up from our Rochester trip this weekend: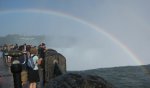 Obama's big health care speech was last night - I caught a bit of it on the radio, but reading the remarks this morning it seems like a good speech and hopefully something will get done. (here's the plan in bullet point style) I'm glad he addressed some of the more ridiculous rumors like "death panels".

During the speech, Rep. Joe Wilson (R-SC) yelled "You lie!" to Obama, which got some boos. Here's a video - the look on Nancy Pelosi's face is priceless :-) Apparently he called afterwards to apologize to Obama.

I got my copy of Alien Hand Syndrome (i.e. the Damn Interesting book) yesterday. It is good!
---
This backup was done by LJBackup.