Posts on April 27, 2010
Palm Developer Day trip: Day 2
Mood: happy
Posted on 2010-04-27 21:48:00
Tags: pictures palm travel
Words: 470
I woke up excited and nervous about interacting with people. After getting ready and seeing a few fellow attendees eating breakfast downstairs, I got in the hotel limo with two other people to go to Palm HQ. Chatted with them a bit about the kind of stuff they worked on. When we arrived Palm had breakfast available in their cafe - I grabbed some fruit and sat down with some people and joined their conversation. (Hooray for being somewhat sociable!) Even got one guy interested in FlightPredictor (coming very very soon!)

The keynote started at 9 and talked about a new things coming to WebOS in the fall timeframe - access to the microphone and camera, better file I/O access (yay!), a new database system, etc. After that the company store was open (all items 30% off!) so I got a nice Moleskine notebook with the Palm logo and a new headset. The rest of the day was a blur of sessions - interestingly they had both hour long and 30 minute sessions, but generally the hour long ones were good and the 30 minute ones were less so. I was proud of myself for asking a few questions and going to the Apps Lab to report a bug which we spent 20 minutes examining. Later I got a picture taken with my app (link coming soon!)

After all the sessions were done, Palm had an offsite mixer with free beer and food, so I took the shuttle they provided there. I was feeling pretty socialized out, though, so I joined a group talking with a Palm guy for a bit, got a beer and food from the buffet and then sat alone, thinking someone might join me, and they might not. As it turned out, no one did, and after a while I pulled out my book and read for a while, then just felt like going home.

This was a little tricky logistically - one option was to wait for the Palm shuttle to take me back to Palm and then call the hotel and wait for them, but I wasn't sure if the Palm shuttle was even running since I was leaving so early. The other option was to walk the 3.1 miles back to the hotel, which I decided to do. It worked out OK, but it was a long walk and I took a few wrong turns. Hooray for Google Maps with walking directions on my Palm Pre, though!

When I finally made it back to the hotel, I collapsed for a bit, then ordered a dessert as a reward, and prepared my plan for the next day. My flight wasn't until 5:50 PM so I was planning on taking the Caltrain to San Jose to explore the city...

Here are the pictures (more being posted as I type!):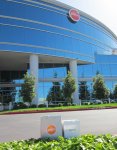 Palm Developer Day trip: Day 3
Mood: accomplished
Posted on 2010-04-27 22:53:00
Tags: pictures palm travel
Words: 450
The plan was to wake up at 8:15, which would give me enough time to get ready, check out, eat breakfast, and walk the .8 miles to the Caltrain station to catch the 9:34 to San Jose.

Everything was going well - I was out the door at 9, which should have been just enough time. I took a few wrong turns but still manager to arrive at around 9:31, figured out how to buy a ticket, and then saw there were two tracks. I saw a sign that seemed to imply the first set was for express trains, so I crossed to the other side behind some other people and looked around a little. Just then a train started to arrive, and the little pedestrian gates closed so I couldn't get back to the other side, and lo and behold I was on the wrong side. (later confirmed by an actual sign) So I had to wait an hour for the next one. And just a few minutes later the limo from my hotel pulled up and (presumably) dropped someone off. That would have saved a lot of walking.

Caught the next Caltrain (which was very loud and big) to San Jose, and then had to wait for the light rain to downtown, which wasn't too far but I wasn't sure I could walk under the freeway. The Caltrain runs every hour on weekends and the light rain runs every half hour, so I had a lot less time than I planned in the city.

Which turned out OK because I was tired of walking around. I checked out the Tech Museum of Innovation (pretty neat museum, especially for kids) and had a nice lunch at a local cafe, with tea even! It was still an hour until I had to catch the light rain but I convinced myself to at least walk along an island to the art museum, which was nice. It was still early but I didn't want to tire myself out before having to walk back to the hotel, so I went to the light rail station and promptly got on the wrong train. Easy enough to get off and take one the other direction, but I just missed the real train so I had to burn another half an hour sitting and reading. Arrived back at the hotel uneventfully but thirstily (was a little chilly in the morning with no sweatshirt, was a little warm in the afternoon) - and what kind of hotel doesn't have a water fountain in the lobby? The desk clerk helpfully informed me that there were water bottles in the minibars.

Thus ends the trip wrapup; pictures are all up now: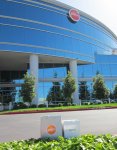 This backup was done by LJBackup.