Las Vegas pictures: AT&T Developer Summit and CES
Mood: busy
Posted on 2014-01-11 16:00:00
Tags: pictures travel
Words: 199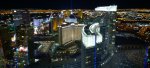 <- click for full album!


I went a bit easier on pictures this year since Vegas wasn't new to me this time.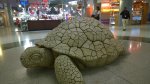 <- a big ol' turtle in the Las Vegas airport.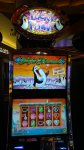 <- Lucky Penguin slot machine!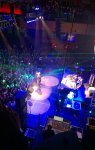 <- Macklemore on stage


<- incredibly large screen showing a FIFA game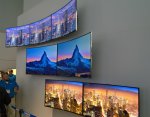 <- Samsung curved TVs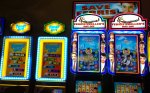 <- Family Guy and Ferris Bueller's Day Off slot machines??

I had a good time although I shorted myself on sleep most nights, which was a bad idea. Hanging out with my fellow ambassadors is always good fun!

Casinowise, I spent a bit more time at slot machines this year. I hardly ever won and they went by very quickly, so I didn't really see the point. I did have a nice conversation with a roulette "dealer" (there's a real word for that, right? the guy who throws the ball?) on Sunday night where things were quiet, and ended up a little bit to boot. Played some craps although as I mentioned I still didn't understand all the crazy side bets. Skipped blackjack this time because of my bad experience last time.

If I go back maybe I'll try to figure out what baccarat's all about, or play a little poker or something.

---
This backup was done by LJBackup.