India, weekend 2
Mood: okay
Posted on 2013-02-12 23:30:00
Tags: pictures travel
Words: 756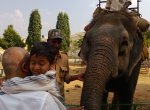 <- click for full album

Saturday 2/9 late evening

Whew, what a day! Kevin and I went to Mysore, which is only around 90 miles away, but took 3 hours to get there. On the way we stopped in Shrirangapattana and saw a temple there.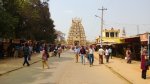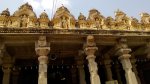 As soon as we got out of the car in front the temple, there were a bunch of very pushy street vendors that bugged us. Check out my bargaining skills: first I got this pair of elephants for Rs 1000 (~$20), down from 1200: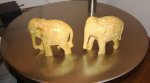 Then I inadvertently learned if you say "no" twenty times, you can get all this stuff for the same price!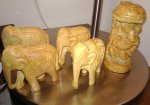 Then I had to say no fifty times to get this one guy to leave us alone.

We walked through the temple and then walked around the city some - it felt very much like a small town (once we got away from the temple). Kevin had a Flat Stanley with him, and he was very successful at getting adults and kids to hold him. Actually, a lot of kids weren't shy and would wave at us. Eventually I started waving at them and they'd wave back, which was fun :-)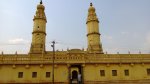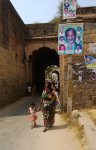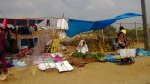 After that, we went into Mysore and saw the railway museum (which took about 10 minutes :-) )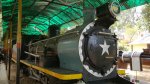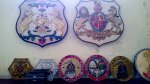 And then on to the main event - Mysore Palace, which was the seat of power for the Kingdom of Mysore until 1947. It's breathtakingly beautiful inside, but unfortunately no pictures :-(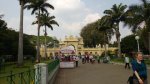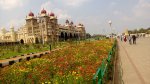 Then we walked around a bit to the city market which was fun but crowded. (and somewhat pushy vendors, although having survived the temple in Shrirangapattana I was an old pro at saying "no" dozens of times) We also discovered the latest scam: a kid would walk up to me, say hi, and ask what my name was and where I was from. Then they'd ask for a coin from my country "for a school project" :-) I did happen to have a dime on me, so I gave in one time...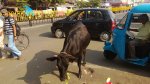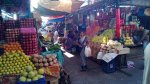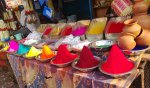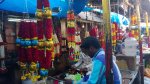 Finally we went up to Chamundi Hill which overlooks the city. Unfortunately by the time we found a good view of the city it was getting dark and the pictures weren't that exciting.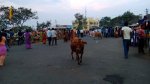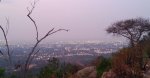 Headed back to Bangalore and I got some evening tea at Café Coffee Day right next to the hotel (which is apparently the Starbucks of India...based on what I've seen, this seems accurate) and now I'm collapsed in bed. I got 21K steps today, and...ow! Going to sleep in a bit tomorrow.

Sunday 2/10 evening

Slept in a bit! I had breakfast at Café Coffee Day just to shake things up (and because I slept past breakfast time in the hotel), and had my laundry picked up. After that I spent some time relaxing, posting pictures/blog entry for the week, and watched the last hour of "The Dark Knight" on TV. (in English!)

After playing a bit of WoW, it was high time to leave the hotel room as I was going a bit stir-crazy. One unfortunate part of this hotel ishere's nowhere to go (other than the two hotel restaurants) if you want to stay in the hotel but not in your room. So I walked to the east, where I thought I had seen some places to shop while driving by. It was a little further away than I thought, but I did find a kind of mini-mall - it had a department-like store on the bottom two floors, then some other random stores, then a food court, arcade, and cinema. I got some gelato as a snack, and then took a look at the cinema to see if there was a movie I could watch. Unfortunately, the thing that displayed what played at what times was kinda broken, and the website was hard to use, in that I couldn't even figure out what location I was in. Apparently Lincoln and Life of Pi were playing at some theatres in English, but I don't think they were at that one. Oh well!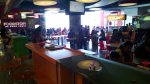 Café Coffee Day also lived up to "the Starbucks of India": there were two of them in the mall, and it really wasn't that big...

I also realized after the fact that there was a McDonald's there and I totally missed a chance to check out the price of a Big Mac. Nooo!

Walked back, and the rest of the day was pretty uneventful except for room service. I did get to watch some cricket and English Premier League soccer, which was fun. Now, to bed!
---
This backup was done by LJBackup.