India, weekend 1
Mood: tired
Posted on 2013-02-06 23:20:00
Tags: pictures travel
Words: 1014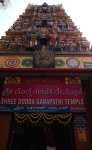 <- click for full album

I thought for this trip I'd try posting pictures and entries as I went. I'm already a bit behind, though, so I doubt I'll really keep up. But, here's my first Bangalorian weekend!

Friday 2/1/2013 afternoon

I'm on my way to India! I arrived at the Austin airport obscenely early for my Dallas flight, which was uneventful. In DFW I realized that some of my Nokia friends were on their way to an event, so I walked from Terminal D to C to say hi. Then I had to quickly walk back, as it was a longer walk than I had expected and it was getting close to departure time. But I did sneak in a cup of Ben & Jerry's - tasty!

The flight to London was long but fine. I rented four movies on my Surface before I left and watched "The Cabin In The Woods" ("Joss Whedon horror movie" sums it up perfectly) and "There Will Be Blood" which was also good. I'm glad I had those to watch - the 777 entertainment system had movies but the selection was small and none of them tempted me even a little. In between, I chatted with the woman next to me, who was also heading to Bangalore, randomly enough! I also read some, including a book about airplane crashes; fate - consider yourself tempted! Tried to sleep but was mostly unsuccessful, so I was feeling blah when we landed. Walking around Heathrow helped a lot. Terminal 5 is very nice, after having to go through security again (blah) I got some souvenirs and lunch at Pret a Manger, my favorite place ever. The sandwich was only OK (my fault for getting one with avocado as the main ingredient - I love me some avocado but it's a bit much on its own) but the yogurt and fruit parfait was excellent. Mealtimes are so weird on multi-time zone trips, but my stomach's doing OK so far.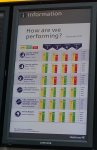 Tea at lunch helped, but I'm clearly out of it - while browsing shops I saw a Kindle for a very good price...until I realized it was in pounds. Not two minutes later, I thought that the currency exchange place was offering a terrible deal on rupees...until I realized that was in pounds as well. Going to take some melatonin on this next flight in the hopes it will help me sleep...

Saturday 2/2 evening

Not sure if it was the melatonin or being really tired, but I managed to sleep 5-6 hours on the Bangalore flight, which is easily a personal best. So I felt OK but disoriented (and tired of plane flights!) when we arrived. I did my best at filling out the immigration form, then picked up my luggage and went outside to find my driver.

As it turns out, our flight was quite early so I had to wait a bit for the driver, who drove me to my hotel. Even though it was 5:30 AM, the drive in was still terrifying. We would be on a road with lanes, and then there would be a sign about construction and everyone had to swerve to the left and drive on a part of the road without lanes. Honking was applied liberally. I also did see a cow on the side of the road!

I spent most of the day in the hotel room, getting my stuff set up and trying not to fall asleep. The room is nice, but unfortunately it faces the corner of two rather large roads, which means there is lots of honking all day long. I suppose I'll get used to it in a few days, but I'm glad I brought earplugs for sleeping. I did a tiny bit of walking around, but I'm planning to hang out with NI folk and do some sightseeing tomorrow. After a full night's sleep, of course!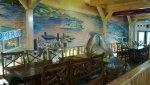 Sunday 2/3 early evening

Ahh sleep. I felt so much better this morning! Unfortunately I seem to have lost my melatonin (left it on the last plane, I guess?) but I didn't need it - went to bed at 10:30 and quickly fell asleep. After showering and a short video chat with David (the WiFi in the hotel is barely good enough for this to work), I had breakfast and met Rakesh downstairs. We planned out where to go for the day, and then got on our way!

First stop was Big Bull Temple, which is a Hindu temple which has a giant statue of Nandi, a bull. After that we went to a big ISKCON temple. It was interesting - there was a long path to walk that went through the main temple but then you ended up at a market downstairs with souvenirs and food and whatnots. Our next stop was Bangalore Palace, where I got a lot of good pictures.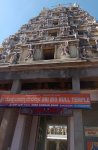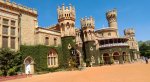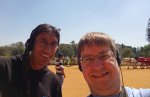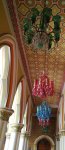 Afterwards we met Kanika and had a delicious Indian lunch, where I got my first taste of paneer here. (it was excellent!) Then we went to a shopping center where I got an Indian shirt and a few snacks, then we had tea and chatted for a good while. It was already 5 PM by the time we were done, so I just headed back to the hotel. I'm doing remarkably well for only my second day - I'm a little tired from walking around, but nothing like the jet lag I went through in Germany. Adjusting times quickly and getting a good night's sleep seems to be a winning combination. My stomach's also been holding up decently.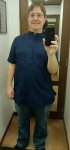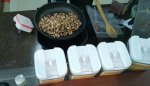 I've already adjusted to honking all the time on the roads - at first I had a visceral reaction to it, because I'm used to it meaning "something bad is about to happen", as opposed to "just FYI, I'm here" or "drive faster!", etc. Driving is still kinda scary but I just don't look too much. I saw some signs reminding people not to drink and drive, and all I could think was that there would be no way you could drive drunk in this traffic without getting in an accident!
---
2 comments
Comment from yerfdogyrag:
2013-02-06T21:06:06+00:00
Awesome pictures, love the shirt.
Comment from gregstoll:
2013-02-10T05:50:02+00:00
Thanks! I hope it still fits after washing (which is happening as we speak), otherwise I may have to make another trip over there, somehow.
This backup was done by LJBackup.