San Francisco trip
Mood: happy
Posted on 2010-10-13 23:37:00
Tags: pictures travel
Words: 653
We had a great trip to San Francisco! Here are pictures: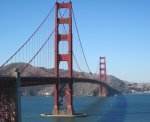 This time, I didn't write up every single thing we did, just when I had something to say. So:

Monday, we drove out to Fairfield to visit the Jelly Belly factory. The tour was pretty interesting - we got to walk around the factory and saw a bunch of videos about the company's history and how they make Jelly Bellies. Along the way we got to try new flavors of Jelly Bellies (honey is good!) and sample beans that had only gone through part of the process. The scale of the place was pretty impressive. Also, one of the steps is putting the beans through a "sugar shower" which sounds really tasty! The store had free samples and a ton of Jelly Belly paraphernalia. I went a little overboard...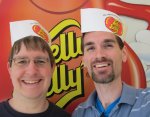 Afterwards we played Putt-Putt. I was a little ashamed because we were very hot, but the high was only in the 80s. Later I found out the high where we were was actually 97, so we hadn't transformed into California wimps. Yay!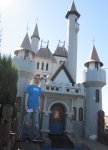 The cable cars were neat but a little frightening - it looked like the driver had to grip very tight on hills to keep the car moving. Also, the brakes often took two or three taps to actually stop.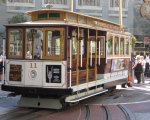 The Alcatraz audio tour was very interesting - the site is still relatively well preserved. There is a very nice view of San Francisco (it's only 1.25 miles away); apparently some nights inmates could hear chatter from parties there.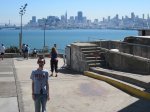 Pier 39 but had a lot of neat stuff, like an amazing sock store! I got a hot tea and then spent an hour on a ridiculously overcrowded and unventilated streetcar getting home...honestly was a little afraid of fainting. (lesson learned: hot tea is a "sometimes drink")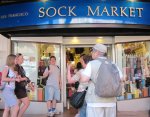 The Muni system is...interesting. Muni is the public transit system for the city of San Francisco (i.e. not BART, not CalTrain, not any of the 10 other mass-transit options) There are four(!) types of vehicles - cable cars which run a very limited set of routes, buses, streetcars that run on rails and attach to overhead power lines, and streetcars that also go underground like a subway. This was all extremely confusing for a day or so until we mostly got the hang of it. Stops were sometimes hard to see, and the payment system is kind of arcane. For street-level things, you pay at the front when getting on, unless you have a 1/3/7-day pass. (we bought a seven-day one...and then bought me another one when I left it on a bus our first full day here. Whoops!) The passes aren't electronic, so the driver's supposed to verify that it's still valid, which of course rarely happened. In the subway, however, you have to pay cash to get into the station, unless you have a pass, in which case you just...walk through the gates. The linchpin to the system is you can be stopped at any time by a Muni cop to show proof of payment (including a timed transfer if you paid cash), but we rode a lot and never saw one.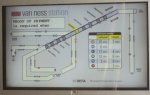 The California Academy of Sciences was pricey, but it had a good planetarium and enclosed rainforest environment. And a good museum shop :-)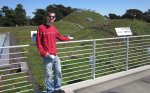 We saw a fun show called Beach Blanket Babylon. It's a musical revue of, um, pop culture and stuff. Some of their jokes were fairly groan-inducing (bordered on the whole "referencing someone in pop culture=joke" philosophy), but usually either a joke or the music was good in each scene, so that's fine. Rule of thumb: the show isn't over until the big hat comes out. No, the really big hat. Seriously - biggest hat I've ever seen. Oh, and the plot of the 100 minute show could be described in 60 seconds. Just think of it as "Family Guy with music" and you'll be fine.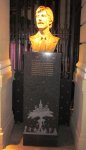 ---
4 comments
Comment from kernelm:
2010-10-13T23:46:31+00:00
Jelly Bellies! I think you were the one who first introduced them to me, actually. I was in the Taste Bud club for a while... wonder if they still have that.
Comment from gregstoll:
2010-10-14T09:46:06+00:00
Neat! I'm so proud :-) Yeah, I was a member for a while...sadly, I lost my membership card. Plus I haven't heard from them in a looooong time.
Comment from quijax:
2010-10-14T11:11:55+00:00
Did you go to the Musee Mecanique?
Comment from gregstoll:
2010-10-14T12:10:41+00:00
No - what's that? (it sounds neat!)

We kept pretty busy visiting various museums and places and whatnot. We did make a list of places to visit when we go back, though! (at some point in the undetermined future)
This backup was done by LJBackup.