First picture with new camera!
Mood: excited
Posted on 2010-03-23 10:42:00
Tags: pictures house
Words: 42
...and it's of our new tree! I just set the camera to auto and it did a pretty good job in the darkness: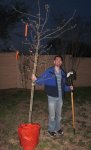 There are more new pictures in that gallery, too. Coming soon - a picture of the tree after being planted :-)
---
2 comments
Comment from yerfdogyrag:
2010-03-23T11:40:15+00:00
Cool! Can you take a picture of your new camera? Note: mirrors are cheating.
Comment from fartingmonkey:
2010-03-23T19:01:09+00:00
I notice you are indeed holding the shovel upside down.
This backup was done by LJBackup.