Posts with mood productive (5)
Paddle Your Own Canoe review
Mood: productive
Posted on 2014-01-11 15:31:00
Tags: reviews books
Words: 45
Paddle Your Own Canoe: One Man's Fundamentals for Delicious Living by Nick Offerman
My rating: 4 of 5 stars

This book is half memoir and half rules for living. I found it interesting although it wasn't as funny as I expected.


View all my reviews
Because I Said So! review
Mood: productive
Posted on 2014-01-11 15:25:00
Tags: reviews books
Words: 109
Because I Said So!: The Truth Behind the Myths, Tales, and Warnings Every Generation Passes Down to Its Kids by Ken Jennings
My rating: 4 of 5 stars

This is essentially Mythbusters for folk wisdom, some of which you probably heard when growing up. Some of these are clearly false (no, your face isn't going to freeze that way) but there are a lot of interesting ones too. (sitting up straight isn't necessarily better for your back, and mixing different kinds of batteries is bad) And it covers the whole "carrots make your eyesight better", which is my litmus test for a book like this.


View all my reviews
An Astronaut's Guide to Life on Earth review
Mood: productive
Posted on 2014-01-11 15:15:00
Tags: reviews books
Words: 54
An Astronaut's Guide to Life on Earth by Chris Hadfield
My rating: 4 of 5 stars

Very good memoir - Col. Hadfield talks about his life and lessons he learned along the way. It was more memoir-y than space-y which I didn't expect, but I definitely enjoyed and would recommend it.


View all my reviews
Boston trip recap and pictures
Mood: productive
Posted on 2013-06-16 15:02:00
Tags: pictures travel
Words: 1450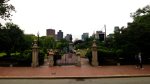 <- click for full album


Monday 6/3/2013 8:30 PM
Whew - we arrived Friday but I haven't written anything until now. I do have some reasonable excuses, as you'll see...

On Friday, our flight was scheduled to get in just before midnight, but it was delayed 90 minutes. Luckily it didn't get cancelled, and our car rental place was open 24 hours (unlike some of them) so I didn't stress much. We were on JetBlue so I got to watch some international soccer (Mexico was playing!) and various old sitcoms. We arrived at 1:45 AM to a mostly deserted airport. Got our bags and our car then drove out to the hotel (at least there was no traffic!), arriving at 3 AM.

The next day we hung out with my relatives, and went to the Winchester Town Day. Saw some cool stuff and picked up a cute mariachi penguin. Unfortunately it was in the 90s and most places don't have A/C so it was pretty tiring. Afterwards, we relaxed and cooled off (including a few rounds of bocce!) and then prepared for my Grandma's 90th birthday party. A few other people came over for the party and we had a good time.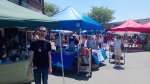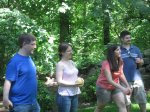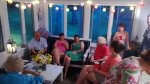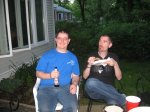 Unfortunately I started to feel sick that night - still not sure whether it was a cold or allergies or what, but it knocked me down.

Sunday we headed down to watch a Pawtucket Red Sox game. Minor league baseball is always fun to watch, and there was even a Rice alum (Anthony Rendon, who was called up to the Nationals shortly after the game!) playing for the other team (the Syracuse Chiefs). Rendon had a good game but the Paw Sox one, so hooray all around! Unfortunately after we got back to Winchester I started feeling worse so we said our goodbytes and turned in early.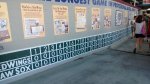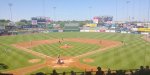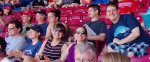 This morning we drove into Boston, had breakfast, then dropped my sister at the airport. We checked out the MIT Museum which had some interesting exhibits as well as a small but nerdy gift shop - definitely recommended! The afternoon we spent wandering around Harvard Square with my remaining family, then said goodbye and back to the airport to return the rental car. Very happy to be done driving in Boston!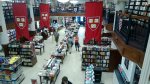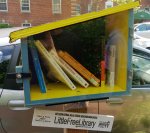 We then slowly made our way to our hotel in town that we'll be staying at the rest of the week. The first leg was on the Silver Line, which starts as a regular bus but then swaps over to being electric-powered. Interestingly, after that it acts like a subway (the stations look like subway stations) except there are no tracks - it just drives. I wondered why cities don't do that normally - surely buses are cheaper than trains, and then you wouldn't have to lay tracks. But I guess trains can be bigger than buses, and you don't have to steer trains...

Sadly, when I was climbing up the stairs of a subway car while carrying my suitcase I fell and banged up my knee. Aside from the embarrassment I think my knee is mostly OK although it still hurts a bit.

Made it to our hotel (the Boston Park Plaza Hotel) which was surprisingly upscale - I felt underdressed which doesn't happen often, and not because I dress well! Wandered around a bit and saw a few places with Marathon bombing memorials - it happened close to our hotel. There have also been a lot of people wearing "Boston Strong" shirts, which makes sense given that the bombing was less than two months ago.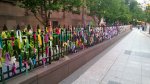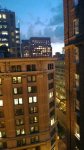 Tuesday 6/4 6 PM
Had a nice time walking most of the Freedom Trail - lots of very old and famous sights! We bought an audio tour which was nice to have. We also stumbled across a "Panera Cares" store where all the food is donation-based. The Freedom Trail was supposed to be 2.5 miles but according to my fitbit we've already walked 7 miles today, and we even bailed a bit early. We did walk around inside a few museums (Old South Meeting House and the Old State House), but yikes. I was impressed that the museums didn't shy away from topics like slavery and free speech - it was less of a hagiography of the Founding Fathers than I expected, and kudos for that.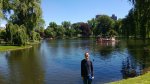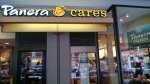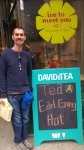 Tonight we're seeing the Red Sox play at Fenway!

11:30 PM
Red Sox game was a lot of fun! We walked down Yawkey Way, bought a pair of Red Sox socks, and found our seats. The game was "exciting" in the sense of "outcome never seriously being in doubt" as the Red Sox were up 8-0 by the end of the second inning. But there was a high fly ball turned into a double by the Green Monster, a homer run over the Green Monster, David Ortiz managing to hit a triple, and "Sweet Caroline". The Sox won 17-5.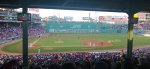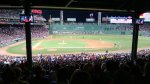 Wednesday 6/5 2:30 PM
We saw the New England Aquarium today, which was fine except most of the penguins were gone due to renovations :-( Both of our feet hurt a bit so we returned to eat lunch at Pret a Manger (delicious!) and rest in the hotel.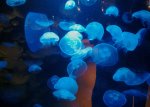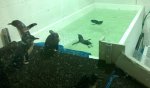 8 PM
We hit a lot of short activities this afternoon. First up was the Mary Baker Eddy Library, which was on our list because it contains a three-story stained-glass globe that you walk into (the Mapparium) which was seriously impressive. Mary Baker Eddy (as I learned) was the founder of the Christian Scientist religion, as well as the Christian Science Monitor. The Mapparium was constructed in 1935 and they decided not to update it, so you see all sorts of fun things like "Siam" and "French Indochina". Since you're inside a sphere it's extremely acoustically live. It was awesome!

Next up was Ward's Map Store (sensing a theme?) which had a lot of reproductions of old maps. It was cool to browse around. Then we stopped by a gay bookstore before heading to the Gourmet Dumpling House - there was a 20 minute wait but the dumplings were delicious. Tonight we're relaxing and figuring out what to do on Friday.

Thursday 6/6 10:30 PM
We spent a lot of time at the Boston Museum of Science today. We were planning to come back to the hotel between that and the 4 PM Duck Tour (which left from the museum) but there was so much to see we didn't pull it off. There was a ton of cool stuff to see, even a few good math exhibits! The museum had an odd collection of exhibits: the nanotechnology one was right next to a bunch of old wooden ship models. Anyway, science!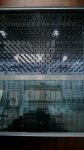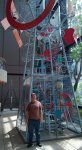 The duck tour was a lot of fun (we "quacked" at random passersby a lot), and although we had walked by a lot of the sights already when we did the Freedom Trail, we did see some new neighborhoods including Beacon Hill, which still has gas streetlamps. Driving into the water and navigating the Charles River was pretty cool.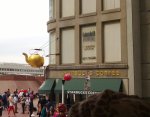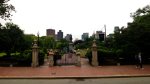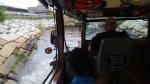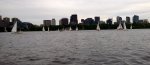 Afterwards we had dinner and went to see "Shear Madness", where we had a gay old time. (pun intended)

Tomorrow is our last real day here. We had considered taking the commute rrail out to Salem, but it's supposed to be cold and very rainy. I'm also feeling a bit less well than yesterday, so the plan is to just relax. We'll see if we get bored, but I doubt it as I still have plenty of books to read!

Friday 6/7 11:30 PM

It did rain (and was a little chilly although not too bad) so staying in was nice. Did a lot of reading and packed up our stuff. There was a brief moment of excitement when the fire alarm went off - we just made it down to the lobby (from the 12th floor!) before it stopped. (and we saw a fire truck driving away) I went out to an Irish pub to watch the Bruins game - sadly the satellite signal went out after the first period because of the rain. People seemed remarkably indifferent, and the Bruins won and are headed to the Stanley Cup Finals!

We have a bit of an early morning tomorrow, but nothing too terrible. It will be nice to be home!

Saturday 6/8 8 PM
Well, our first flight to Orlando was delayed, and then our second flight was as well - we actually waited on the runway for 30 minutes or so waiting for a storm to pass. But, we got to watch TV (I watched a lot of the Rice baseball game - they were ahead in the 9th but ended up losing :-( ) and were in no particular hurry so it wasn't too bad.


Website redesign
Mood: productive
Music: Goo balls
Posted on 2008-03-01 20:48:00
Tags: homepage poll
Words: 40
After doing some more realish work today, I redesigned my website a bit. Here's the new version, and here's the old one for comparison.

I realize no one will see this now since it's Saturday, but feedback is always welcome!
This backup was done by LJBackup.