Munchkin (2001)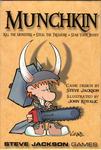 Players: 2-6 (Best for 4, Recommended for 3-6)
Playing time: 60 minutes
Rating on BoardGameGeek: 5.85558
Description: "Kill the monsters - Steal the treasure - Stab your buddy."

Munchkin is a stand-alone card game designed by Steve Jackson that "simulates" (well, sorta') a fantasy-themed RPG (oh, ok, DnD) in a simple, card-based game that's chock full o' silliness. Everyone begins the game as a 1st level Human with NO Class (heh-heh) and via cards, they acquire Races (Elf, Dwarf, etc.), Classes (Thief, Wizard, Cleric, etc.), Items, Armor, Potions and more that they use to combat hideous monsters like the 4th level Undead Horse, the 10th level Net Troll and the 14th Level Unspeakably Awful, Indescribable Horror (very nasty, indeed). The object of the game is to reach Level 10 and levels are acquired via the slaying of monsters and the selling of acquired treasure (1,000 Gold Pieces equals 1 Level). Very silly and a lot of fun!

Part of the Munchkin series.

Expanded by:


Munchkin 2: Unnatural Axe
Munchkin 3: Clerical Errors (and the faulty Munchkin 3.5 - Clerical Errata)
Munchkin 4: The Need for Steed
Munchkin 5: De-Ranged
Munchkin 6: Demented Dungeons
Munchkin 7: More Good Cards
Munchkin Rigged Demo
Munchkin Dice
Episches Munchkin
Munchkin: Fairy Dust
Munchkin Waiting For Santa


Sequels:

Star Munchkin
Star Munchkin 2: The Clown Wars
Munchkin Bites!
Munchkin Bites 2: Pants Macabre
Munchkin Fu
Munchkin Fu 2 - Monky Business
Super Munchkin
Super Munchkin 2: The Narrow S Cape
Munchkin Blender
Munchkin Impossible
Munchkin Cthulhu
Munchkin Cthulhu 2 - Call of Cowthulhu
Munchkin Cthulhu 3 - The Unspeakable Vault
The Good, the Bad, and the Munchkin
Munchkin Booty
Munchkin Booty 2 - Jump the Shark




Promo Items:

Mask of the Munchkin
Munchkin Bobblehead
Munchkin Cthulhu Dice of Doom
Munchkin Greeting Cards
Munchkin Promo Cards
Munchkin Promotional Bookmarks
Munchkin Official T-shirts
Munchkin Silver Pieces
Munchkin Water
Munchkin Wicked Dice & Bag




Related Board Games:


Munchkin Quest
Munchkin Quest 2 - Looking for Trouble
Munchkin Quest Promo Set 1
+6 Bag O' Munchkins
Munchkin Quest: Extra Parts


Pegasus Expansions:


Munchkin Sammlerbox
Munchkin Promotional Bookmarks
Munchkin Weihnachtsedition - The same as Munchkin, but with a promotional button that grants the wearer extra treasure (when worn in December).
Mechanics: Trading, Variable Player Powers, Dice Rolling, Role Playing
Categories: Card Game, Fantasy, Humor