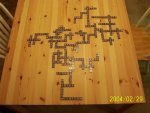 100_0800
So...Syzygy (playsyzygy.com) is a neat word game where you compete to form crossword puzzles with words. We decided to play on one "team" and make a huge crossword!
Date: 02/29/2004
Views: 2811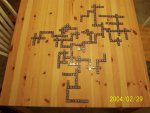 100_0798
The words with wilds in them are, from top to bottom and left to right: "hide", "quixotic", "gondola", "adore", "bond", "id", "excited", "dinghy", "goon"...
Date: 02/29/2004
Views: 2071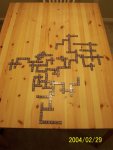 100_0797
The "badger", "mushroom", and "snake" reference can be seen here (the original), and for you LOTR fans, also here...
Date: 02/29/2004
Views: 3235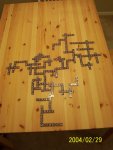 100_0799
Some of our favorite words (well, my favorite words...) are "jurisprudence", "indoctrinate", "investigated", "quixotic", "exhortation", "luscious" (our first word!), "junket"...
Date: 02/29/2004
Views: 2030