WP_20150315_04_06_18_Pro_2
As seen on the Indian customs form. Wow, I'm glad I didn't try to bring any "incorrect" maps in! (see also The Old New Thing)
Date: 03/15/2015
Views: 871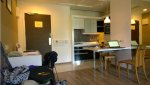 WP_20150315_11_28_20_Pro_2
This time I'm staying at the Grand Mercure, and my room is very nice! The "front door" is on the left, and on the right is the kitchenette and table. They helpfully provide fresh fruit, which would be great if I could eat it. (wait, I think I
Date: 03/15/2015
Views: 698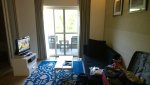 WP_20150315_11_28_28_Pro_2
Looking the other direction you can see a nice couch, a small but usable balcony, and a TV tuned to a cricket match!
Date: 03/15/2015
Views: 717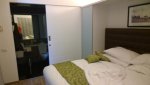 WP_20150315_11_28_43_Pro_2
Just behind the TV is the bedroom (and the TV swivels so you can watch it from the couch or from bed - clever!), and the bathroom and whatnot.
Date: 03/15/2015
Views: 711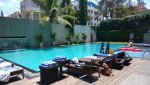 WP_20150315_12_28_45_Pro_2
Outside the hotel there is what looks like a pretty nice pool. (if you look closely on the left you can see a pebble border around it, which is a nice touch)
Date: 03/15/2015
Views: 764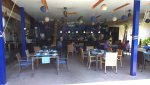 WP_20150315_12_28_57_Pro_2
Across from the pool is one of the hotel's restaurants. I had dinner here on Sunday - it was quite good! They even have burgers, although they are made of buffalo.
Date: 03/15/2015
Views: 756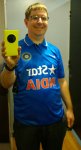 WP_20150315_14_49_13_Pro_2
On Sunday Bharath took me out to lunch and the mall, where I got talked into buying this Indian cricket jersey. I also learned that it's hard to take a picture of yourself in a mirror unless you don't mind the picture being blurry or yourself looking kin
Date: 03/15/2015
Views: 726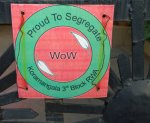 WP_20150315_18_05_59_Pro_2
While walking around the neighborhood, I saw this sign, which I hope doesn't have the same connotation as in the US? (hmm, this might mean segregating garbage?)
Date: 03/15/2015
Views: 806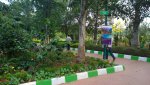 WP_20150315_18_07_12_Pro_2
While it was still light I walked around a nearby park, which was full with people and was quite nice.
Date: 03/15/2015
Views: 797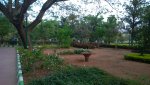 WP_20150315_18_07_37_Pro_2
More of the park.
Date: 03/15/2015
Views: 790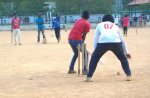 WP_20150315_18_11_29_Pro_2
Right next to the park there were a bunch of cricket games going on. The guy in blue is in the middle of bowling - I was very proud of this shot!
Date: 03/15/2015
Views: 727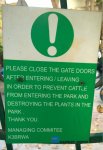 WP_20150315_18_18_44_Pro_2
Offered without comment.
Date: 03/15/2015
Views: 673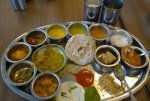 WP_20150317_13_10_24_Pro_2
We went out to a Rajasthani restaurant for lunch - you get quite a variety of dishes!
Date: 03/17/2015
Views: 746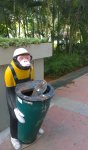 WP_20150318_10_29_41_Pro_2
This helpful chimp/trash can marks the entrance to the building NI is in, which is helpful because I haven't seen any signs indicating which building is which!
Date: 03/18/2015
Views: 729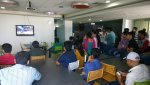 WP_20150319_12_59_08_Pro_2
Near the end of India's innings in their game against Bangladesh in the Cricket World Cup, a lot of people filed in to watch. India ended up winning by a comfortable margin. (109 runs)
Date: 03/19/2015
Views: 718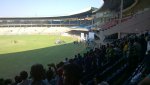 WP_20150320_16_07_40_Pro_2
The Karnataka team celebrating their victory over the Rest of India at M Chinnaswamy Stadium.
Date: 03/20/2015
Views: 767