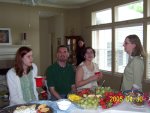 100_4242
Finally, a good picture of David! Also, Paulina, Miriam, and Carly, with Melody in the background.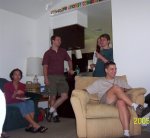 100_4249_2
Now it's time for Dawn & Bryant's baby shower! Here are Alexis, Chris, Paulina and Andrew, and David.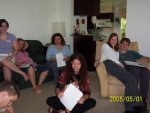 100_4253
People playing some sort of baby game. I think we were about to draw a baby on top of our heads (on a sheet of paper)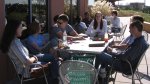 IMG_0072
New Year's Eve a group of us went out to Whole Foods for lunch. It was good! Melody is represented by the shopping basket.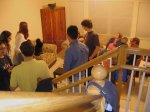 IMG_0074
Dakao is fencing with the cat, much to everyone's amusement :-)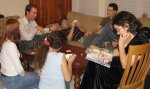 IMG_0085
It's getting quite late, so people try to stay awake with a rousing game of The Big Idea, while Miriam is still working on that...