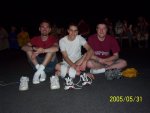 100_4266_2
The other three waiting for the "Universe of Energy" show (starring Ellen DeGeneres and Bill Nye the Science Guy!) to start. The shoes and socks are off because they're wet. Darn rain...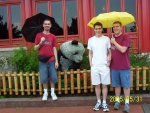 100_4267
The topiary panda is cute! (this is in China in the World Showcase)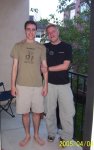 100_4233_2_001
Andrew and Jason (we stayed with them). Aww...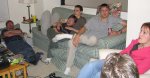 IMG_0076
Jason, Andrew, Doug, Andrea, Stephen enjoying the upstairs. Gamecube action was happening for much of the night, but right now it's close to midnight!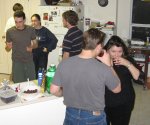 IMG_0079
As midnight approaches, people get drinks downstairs..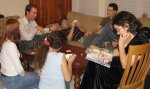 IMG_0085
It's getting quite late, so people try to stay awake with a rousing game of The Big Idea, while Miriam is still working on that...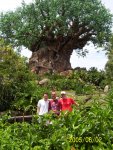 100_4302
Another side of the Tree of Life.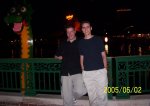 100_4307_2
That night we went to Downtown Disney. Here's Andrew and Jason by a cool Lego dragon (this was right in front of the Lego store).